PAGE, Ariz. — Nearly 50 years after being filled, Lake Powell recently reached its lowest point.
Since then, the lake's seasonal uptrend in water levels has begun.
However, the following eight days all saw more water flow into the lake than out of it, resulting in just under half a foot of rise in water levels. The increase is the first sustained gains the lake has seen since May of last year.
The historically high amounts of rain and snow the U.S. Southwest has received over the past winter may have kickstarted Lake Powell's seasonal uptrend very early. The lake usually doesn't start seeing more intake than outtake until mountain snow begins to melt in mid-May, data from the U.S. Geological Survey showed.
It's unclear just how much this past unusually wet winter will affect the lake and the Colorado River at large. However, a positive impact can be expected as nearly every upper and lower river basin state is reporting triple-digit percent above-average moisture.
As Spring kicks off, time will tell just how much of a boost summer snowmelt will bring to the parched Southwest.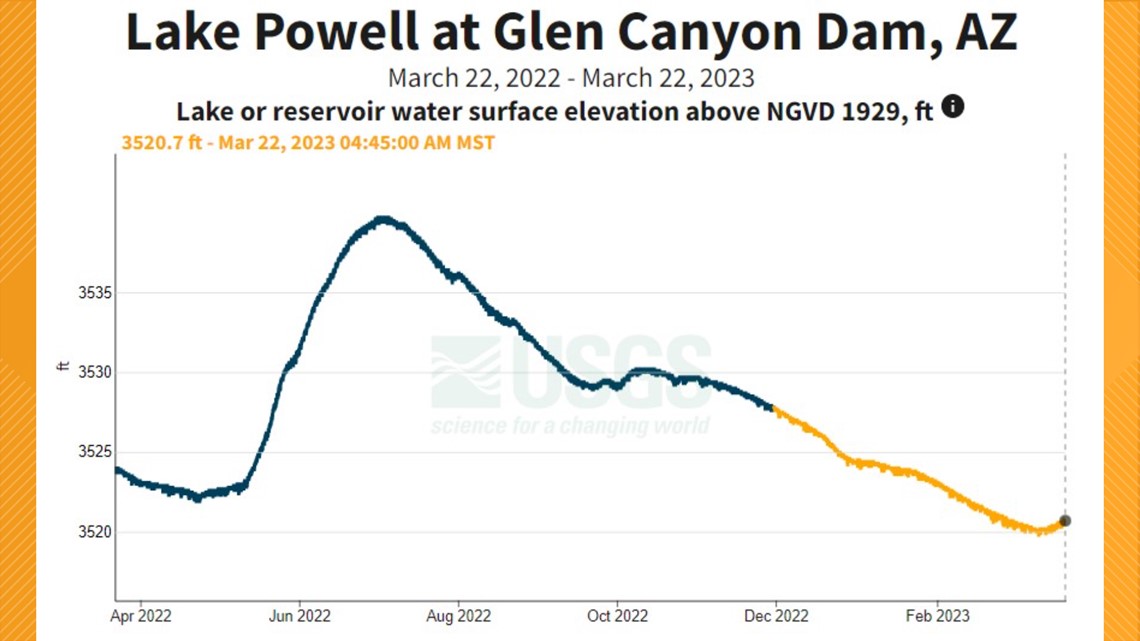 Water Wars
Water levels are dwindling across the Southwest as the megadrought continues. Here's how Arizona and local communities are being affected.
More ways to get 12News
On your phone: Download the 12News app for the latest local breaking news straight to your phone.
On your streaming device: Download 12News+ to your streaming device
The free 12News+ app from 12News lets users stream live events — including daily newscasts like "Today in AZ" and "12 News" and our daily lifestyle program, "Arizona Midday"—on Roku and Amazon Fire TV.
12News+ showcases live video throughout the day for breaking news, local news, weather and even an occasional moment of Zen showcasing breathtaking sights from across Arizona.