KUSA — LA PLATA COUNTY - At least 825 homes have been evacuated and a stretch of highway remains closed in wake of a wildfire that started burning 10 miles north of Durango on Friday.
The 416 Fire, which grew to 1,973 acres Saturday and has no containment, is located on the west side of U.S. Highway 550, according to a release from the U.S. Forest Service in the San Juan National Forest.
The U.S. Forest Service says the wildfire has moved into the San Juan National Forest, and in addition to those already evacuated, about 760 more are being told they may need to leave soon too.
Mandatory evacuations include the Iron Gate Subdivision in 36000 Block of U.S. Highway 550 North, according to La Plata County. The Rockwood subdivision south to Baker's Bridge was also evacuated.
Shifting winds also led to the evacuation of the Glacier Club/Tamarron subdivision south to Baker's Bridge.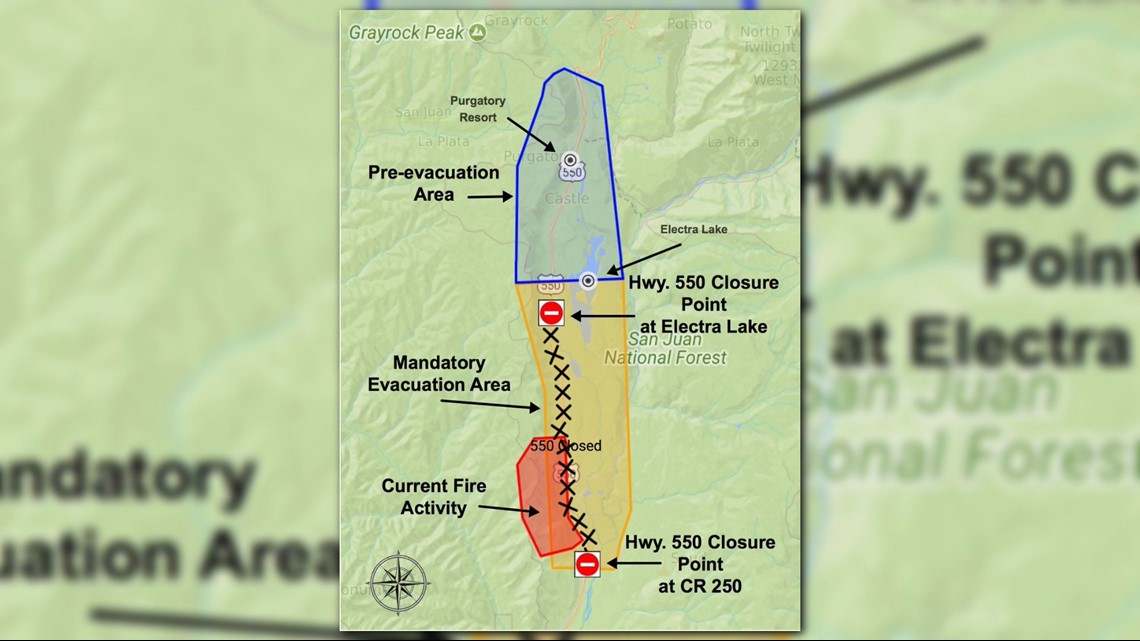 U.S. Highway 550 is closed in both directions from mile markers 38 to 48, and is not expected to reopen until sometime later this weekend.
CDOT recommends these alternate routes between Ridgway and Durango:
- CO 62 Ridgway to Placerville
- CO 145 Placerville to Dolores
- CO 184 Dolores to Mancos
- US 160 Mancos to Durango
PHOTOS | 416 Fire north of Durango
The wildfire was first reported at 10:02 a.m. at 100 acres and as of 11 a.m. Saturday, swelled to 1,973 acres.
Resources battling the 416 Fire include four heavy tankers, one single engine air tanker, 3 helicopters, four hotshot crews, one water tender, and seven different firefighting agencies, according to the U.S. Forest Service.
An evacuation center is open at Escalante Middle School at 141 Baker Ln in Durango.
Livestock can be evacuated to the La Plata County Fairgrounds at 2500 Main Avenue. The emergency call center at (970) 385-8700 can help coordinate pick-up of livestock. Small animals are being accepted at the La Plata County Humane Society, 1111 South Camino del Rio, Durango (970) 259-2847.
The Discover Goodwill of Durango, 1230 Escalante Drive, is now accepting clothes and household donations. Financial donations can be made by calling the Community Foundation serving Southwest Colorado at (970) 375-5807, in the name of the Community Emergency Relief Fund.