"Damar Hamlin suffered a cardiac arrest following a hit in our game versus the Bengals. His heartbeat was restored on the field and he was transferred to the UC Medical Center for further testing and treatment," the Bills said in a statement released early Tuesday. "He is currently sedated and listed in critical condition."
What happened to Damar Hamlin?
Hamlin was hurt while tackling Bengals receiver Tee Higgins on a seemingly routine play that didn't appear unusually violent.
Higgins was running with the ball on a 13-yard pass from Joe Burrow when he led with his right shoulder, hitting Hamlin in the chest. Hamlin then wrapped his arms around Higgins' shoulders and helmet to drag him down. Hamlin quickly got to his feet, appeared to adjust his face mask with his right hand, and then fell backward about three seconds later and lay motionless.
Hamlin was down for 19 minutes while receiving medical attention. WXIX-TV in Cincinnati reported that Hamlin required an automated external defibrillator (AED) in addition to CPR on the field.
What is cardiac arrest?
Cardiac arrest is the medical term for something seemingly simple: when the heart malfunctions and stops pumping blood through the body. According to the American Heart Association, sudden cardiac arrest can often occur without warning. It happens when an electrical malfunction in the heart causes an irregular heartbeat (called an arrhythmia). When that happens, oxygen can't get to the brain, causing the person having the arrhythmia to lose consciousness and not have a pulse.
It can be deadly within minutes, if the person isn't treated, the American Heart Association notes. Chest compressions and CPR are done to keep a patient's heart pumping manually until help arrives.
Is cardiac arrest the same as a heart attack?
While a person undergoing cardiac arrest will fall unconscious, somebody having a heart attack may remain alert and coherent for a time.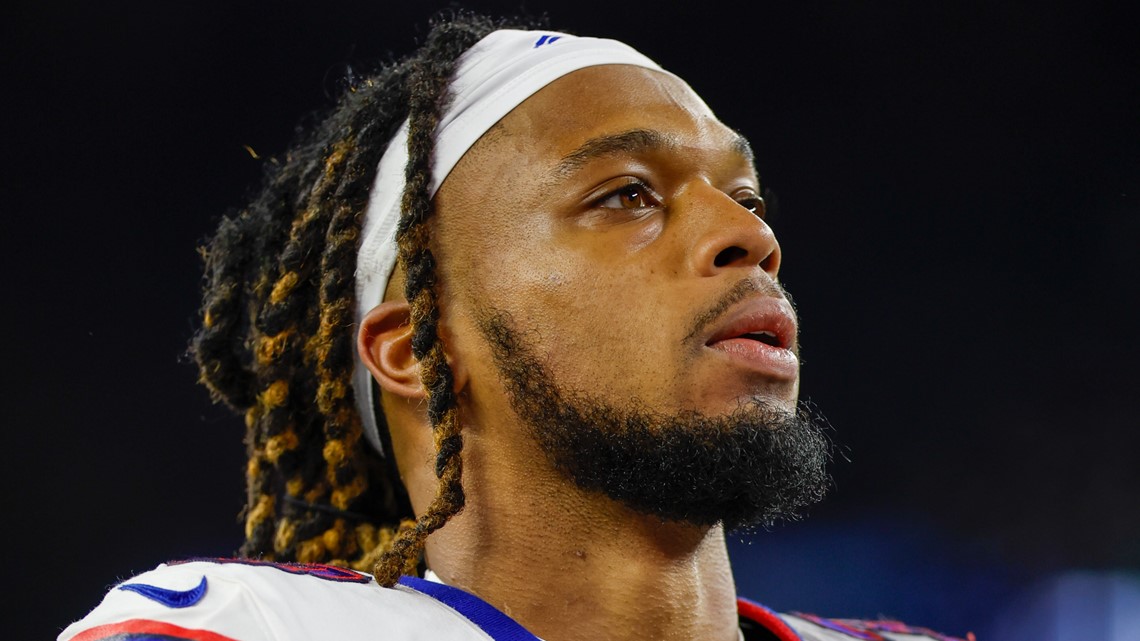 What can cause cardiac arrest?
The main cause of cardiac arrest is ventricular fibrillation or ventricular tachycardia, which are types of arrhythmias, according to the National Heart, Lung and Blood Institute. Important risk factors include prior cardiac arrest, coronary heart disease and heart valve disease. But the institute notes half of cardiac arrests happen to people who did not know they had a heart problem.
What caused Damar Hamlin's cardiac arrest?
It's unclear what caused Hamlin's cardiac arrest. As an NFL player, he regularly exercises and eats healthy meals, so it is unlikely to have been caused by some of the common risk factors such as high cholesterol or high blood pressure.
What is commotio cordis?
It's possible Hamlin suffered a condition known as "commotio cordis," which is an injury associated with blunt-force trauma to the heart. Although infrequent, it can cause sudden cardiac arrest in young athletes. According to the National Library for Medicine, the condition is usually caused by a hard strike during physical activity.
The condition only happens during a rare set of circumstances: when a sharp hit lands directly over the heart "at the exact wrong location at the exact wrong timing" during the heart's rhythm cycle, said Dr. Rod Passman, director of the center for arrythmia research at Northwestern University's Feinberg School of Medicine.
Commotio cordis occurs "probably 20 times a year,'' and about 60% of those affected survive, said heart rhythm specialist Dr. Mark Link of UT Southwestern Medical Center. The main worry for survivors is brain damage from lack of oxygen when the heart stops pumping blood, Link said. Doctors can help reduce that risk with deep sedation to give the brain a rest, he said.
Just before he fell, Hamlin tackled Bengals receiver Tee Higgins, who slammed into the safety's chest with his shoulder before going down.
The Associated Press contributed to this report.