A stretch of Interstate 70 through northeast Denver will be completely closed in both directions this weekend as part of ongoing construction for the Central 70 Project.
The closure along I-70 runs from Colorado Boulevard to I-270, about three miles. The closure starts Friday, April 12 at 10 p.m., and ends Monday, April 15 at 5 a.m.
It's the first time CDOT will completely close the interstate for the Central 70 project, and crews are only permitted to have four complete closures throughout the entire project.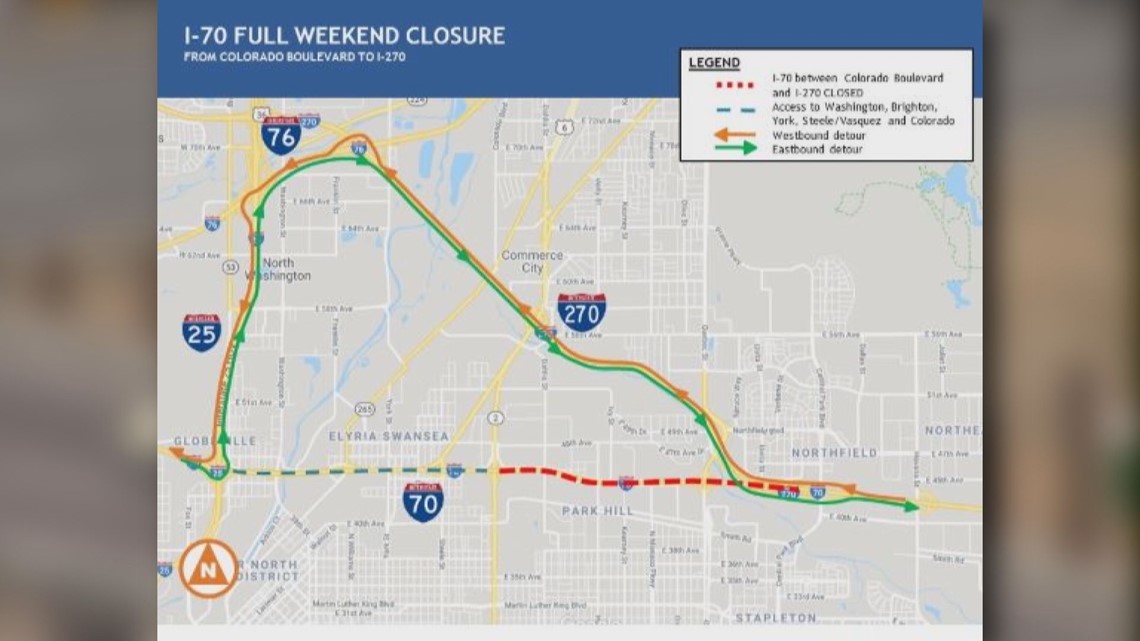 A detour will lead drivers north of Denver, along I-25, I-76, and I-270. CDOT shared a maps on its website, in both English and Spanish.
"I know for folks heading to the airport this might be a pretty big inconvenience for folks," said Stacia Sellers, the Communications Manager for CDOT's Central 70 Project. "Really [be] making sure you're planning ahead of time before you're heading out."
This weekend, Sellers said crews will focus on placing bridge beams for the new 270 flyover, as well as doing drainage work, and placing barriers.
"We're doing some additional work, just to take advantage of the full closure," she said. "We don't want to go out there to just do one piece of work when we have so much road that we can do additional work to help speed things up."
The Central 70 project will upgrade a 10 mile stretch of I-70 between Brighton Boulevard and Chambers Road. CDOT says about 200,000 vehicles travel that part of the interstate every single day.