'One Shining Moment': Beloved Final Four tradition written in a bar where Larry Bird was playing on TV
It's one of the most iconic traditions in all of sports and the emotional March Madness highlight reel has been the grand finale of every Final Four since 1987.
AP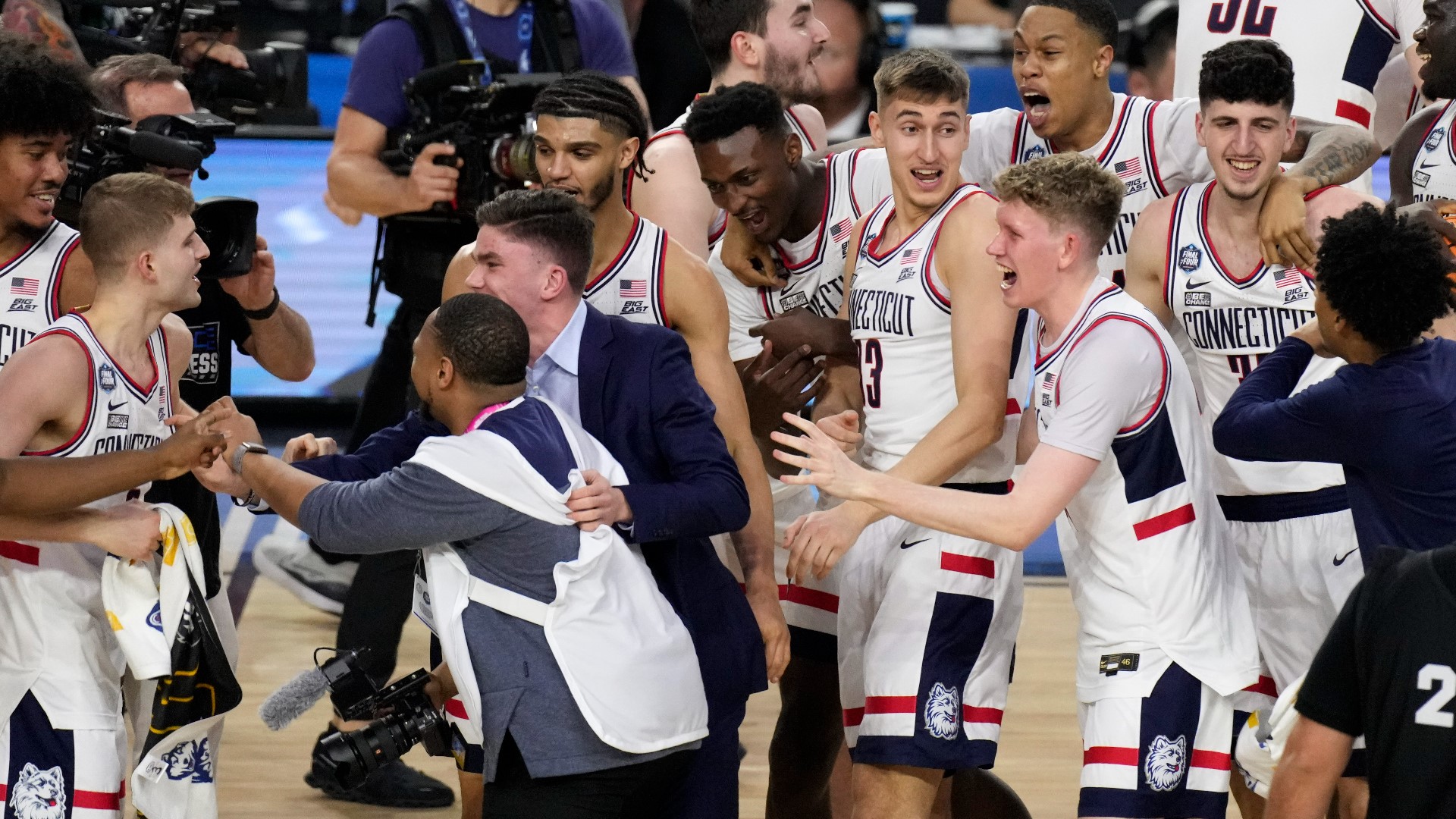 Three things are guaranteed during March Madness: stunning upsets by Cinderella teams; busted brackets; and "One Shining Moment" as the grand finale.
The song has been the background for the emotional March Madness highlight reels played after every Final Four championship game since 1987.
In fact, UConn's Andrew Hurley, the son of coach Dan Hurley, told NCAA.com's Mike Lopresti why the song has special meaning for them.
"My first memory is watching "One Shining Moment." That was one thing every single year that we've done for as long as I can remember, watching that together after the championship game. One of our biggest dreams is not only to be in the spot that we're in but to be part of that video."
"One Shining Moment" has a fascinating back story that involves a bar in Michigan where the legendary Boston Celtic, Larry Bird, was playing on TV.
Chapter 1
:
Story behind 'One Shining Moment'
Singer-songwriter David Barrett was sitting in that Ann Arbor bar watching Bird during his MVP season and trying to explain "the poetry of basketball" to a waitress.
Bird's one-man highlight reel inspired the song title and Barrett wrote "One Shining Moment" on a napkin and went home. He went back to the bar the following night to finish the song.
He's told the story many times but said he'll always treasure the memory of playing the song for the first time on that stormy night.
"Every time I've played this song, which I do from time to time, it feels as fresh as the day I wrote it," Barrett told Curtis.
Chapter 2
:
How it became a Final Four tradition
Barrett said he recorded a demo of "One Shining Moment" and sent it to a friend at Sports Illustrated who passed it on to CBS.
A network executive loved the song and called Barrett to ask for his permission to play it after Super Bowl 21 in 1987.
"I thought it was one of my knucklehead friends. I didn't believe him," Barrett said in the USA Today interview.
He agreed, then waited anxiously to hear his song but the game ran long so it was dropped.
Barrett was disappointed but CBS contacted him again and asked for clearance to play "One Shining Moment" after the 1987 Final Four championship game.
The montage of March Madness highlights was a hit and it's been played every year since except 2020 when the tournament was canceled because of COVID. Bored fans created parodies with their own montages and some went viral. Barrett said he got a kick out of it.
In 2021, the NCAA created a special edition of "One Shining Moment" that featured a hit parade of highlights from every tournament.
Through the years, legendary singers have sung the song, including Luther Vandross, Teddy Pendergrass, Jennifer Hudson and Ne-Yo.
Chapter 3
:
'One Shining Moment' lyrics
"The ball is tipped
And there you are
You're running for your life
You're a shooting star
And all the years
No one knows
Just how hard you worked
But now it shows
In one shining moment, it's all on the line
One shining moment, there frozen in time
But time is short
And the road is long
In the blinking of an eye
Ah, that moment's gone
And when it's done
Win or lose
You always did your best
'Cause inside you knew
That one shining moment, you reached deep inside
One shining moment, you knew you were alive
Feel the beat of your heart
Feel the wind in your face
It's more than a contest
It's more than a race
And when it's done
Win or lose
You always did your best
'Cause inside you knew
That one shining moment, you reached for the sky
One shining moment, you knew
One shining moment, you were willing to try
One shining moment, you knew
- Written by David Barrett