DENVER — Sure, 90-degree weather is basically all that's in the forecast over the next few days. But don't be fooled: Snow is just around the corner.
After an epic snow season across the state that featured near-record snowpack levels in the mountains, could that continue into 2023-24?
The biggest clue about how this winter could play out comes from a developing El Niño. An El Niño is an area of warmer-than-average sea-surface temperatures in the tropical Pacific Ocean, and the domino effect of weather that results from it.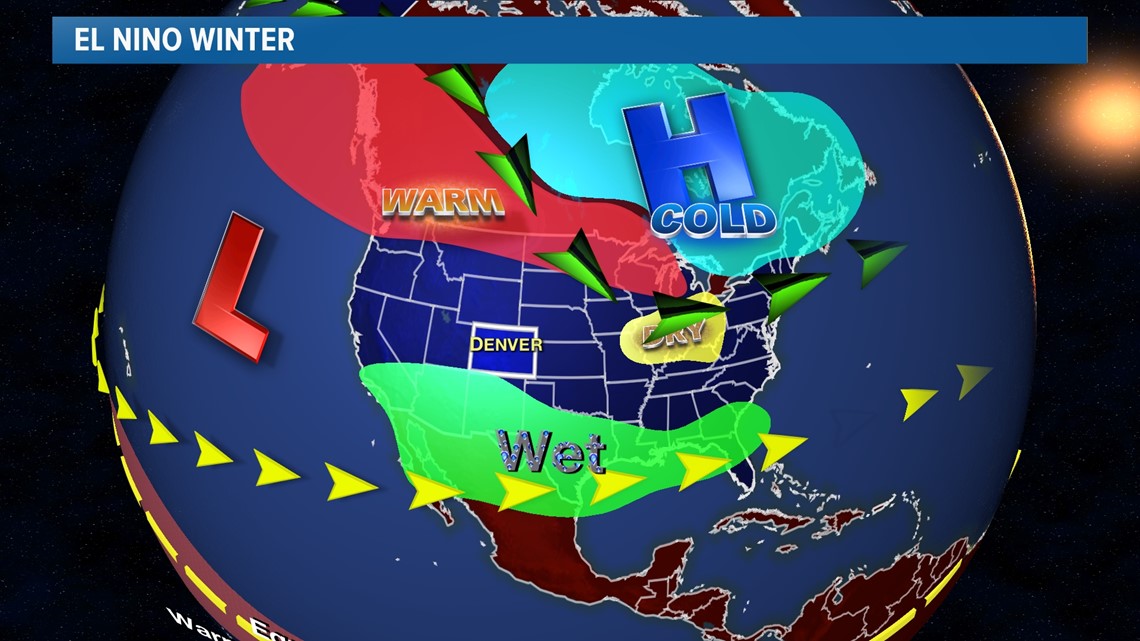 In Colorado, that tends to favor our southern mountains with extra snowfall, though that's far from a guarantee. El Niño-related impacts in Colorado tend to be hit-or-miss, with only a lean toward a snowier winter in the southern part of the state.
We asked 9NEWS meteorologists what they think might happen this winter season, and there's a general feeling about an active snow season, but after a drier and warmer fall.
Denver averages 56.9 inches of snow each winter in downtown, while Denver International Airport (the city's official climate site) averages about 47.0 inches of snowfall. Last year, DIA saw 48.9 inches of seasonal snowfall. The picks you see below are based on DIA observations, so that total could be a little lower than what the majority of the city and metro area actually experience.
Statewide snowpack is based on the snowfall average of all the mountain basins at its traditional early April peak.
And remember: These are long-range snowfall forecast predictions, so take these with a grain of salt!
Our predictions
Based on an average of our seven meteorologists' individual predictions, our 9NEWS team almost unanimously agreed that we'd finish with a (slightly) above-average snow season in Denver.
With a 9NEWS Weather average prediction of 52 inches of seasonal snowfall in Denver (again, based on measurements at DIA), that'd put us slightly above average for the winter.
Six of our seven meteorologists picked an above-average snow season for Denver based on a variety of factors, and you can read about those in our individual picks below.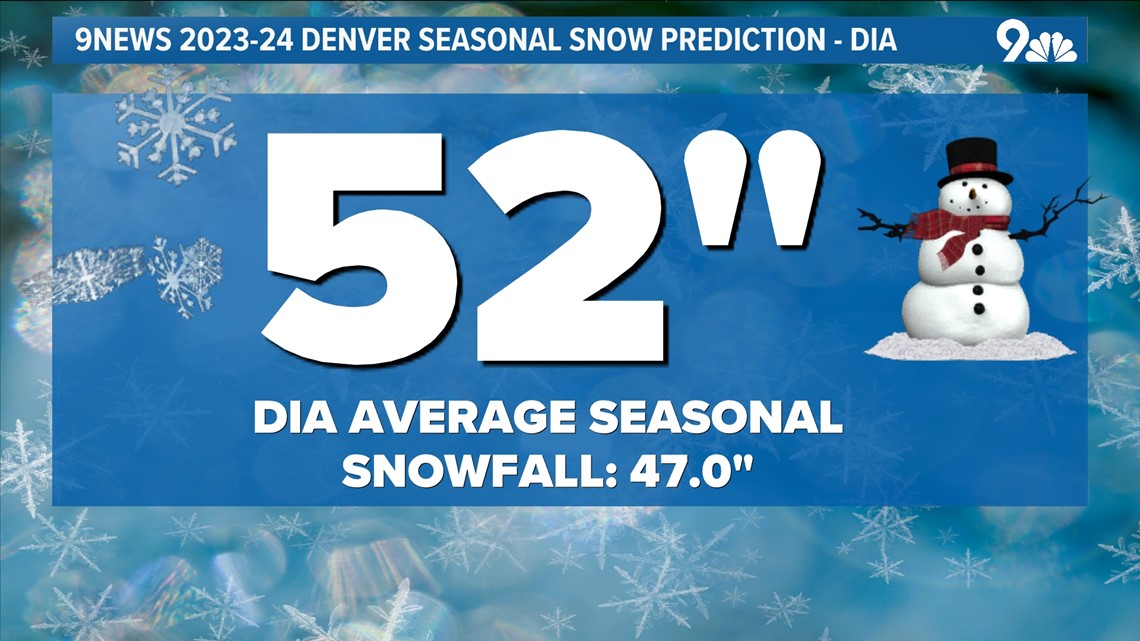 We did, however, agree unanimously that we'll have a below-average season in terms of mountain snowpack. After a string of above-average seasons over the last few years, we think that the mountains will get off to a slow start this winter and gradually recover, but not entirely.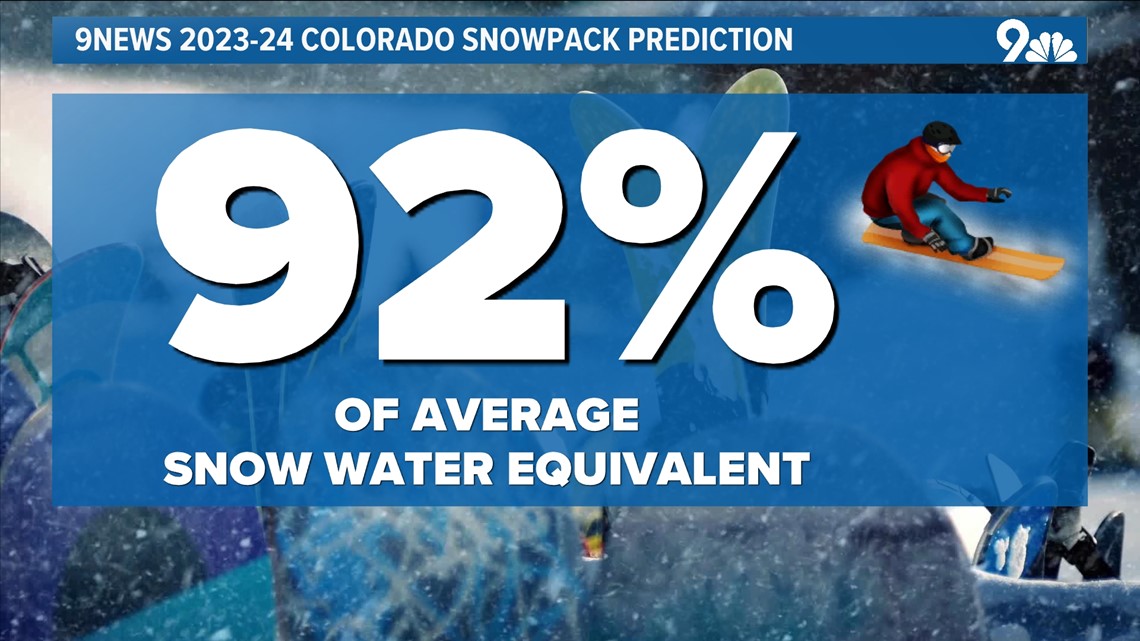 Here's what we individually predict:
Chief Meteorologist Kathy Sabine
Denver seasonal snowfall prediction: 60"
Statewide snowpack percent of average: 95%
Kathy says: El Niño, here we come! I think we will see the first measurable snowfall in Denver (officially) around Oct. 14 and I predict above average snowfall with a total around 65". Colorado snowpack will be lower in the northern and central mountains this upcoming season --around 70% -- and above average 120% in the southern and southwestern mountains.
Meteorologist Danielle Grant
Denver seasonal snowfall prediction: 52"
Statewide snowpack percent of average: 92%
Denver seasonal snowfall prediction: 54"
Statewide snowpack percent of average: 94%
Well, as we know, a strong El Nino tends to favor the southwest mountains with above-average snowfall...but for the rest of the mountains...not so much!
Meteorologist Chris Bianchi
Denver seasonal snowfall prediction: 61"
Statewide snowpack percent of average: 85%
Chris says: My hunch is that we'll have a slow start to the winter season, despite our busy spring and summer. But after a dry and warm fall, things pick up mid-season with a notable atmospheric river event or two come December, January, and/or February.
I think Denver and the Front Range mostly have a blah snow season, but we'll make up for it in a big way with a notable storm or two. We haven't had a doozy of a snowstorm since the March 2021 "Pi Day" snowstorm, but El Niños tend to increase our odds for a big "boom" snowstorm. My hunch is that we end up with a foot-plus Front Range snowstorm somewhere in the winter or early spring, and maybe two of them.
Meteorologist Cory Reppenhagen
Denver seasonal snowfall prediction: 44"
Statewide snowpack percent of average: 88%
Data for strong El Niños favors below-average snowpack, and it's rare to get back-to-back above-average snow years in our mountains.
Denver data actually favors cold and snowy scenarios, but we know that it usually takes a big March to get us up over average, and I feel the warming trend for that month continues. No 12-inch storms this spring would keep us below the average for the season. February should be big but not big enough, perhaps.
The big wildcard this winter is the (Pacific) sea surface temperatures. I'm not really sure how record-warm temperatures will impact us in the Rockies.
Meteorologist Keely Chalmers
Denver seasonal snowfall prediction: 58"
Statewide snowpack percent of average: 96%
Meteorologist Laurann Robinson
Denver seasonal snowfall prediction: 65"
Statewide snowpack percent of average: 95%