Douglas County saw the largest median residential increase at 47%, and the lowest was 33% in Denver. The metro area also includes Adams (38% increase), Arapahoe (42%), Boulder (35%), Broomfield (41%), Elbert (35%), Jefferson (36.5%) and Larimer (40%).
Assessors observed transactions and market conditions from Jan. 1, 2021, through June 30, 2022. Assessments will be mailed to property owners by May 1.
Property owners are encouraged to visit their county assessor's website to research sales their area during that timeframe. Anyone who thinks their property value is incorrect can file an appeal between May 1 and June 8.
Most assessors offer online appeal applications, and all accept written filings that can be mailed or dropped-off in person.
Watch the full news conference:
Property assessments, which are done every two years, are one piece of a three-part equation used to determine state property taxes.
The other two core components are the assessment rate determined by the state legislature, and the tax rate (or mill levy) set by various local authorities. Residents will not know the amount due for 2024 property taxes until the end of 2023, when the tax and assessment rates are set.
Below is a chart showing rate changes for the nine metro Denver counties:
Adams County

Median residential increase - 38%
General Commercial Change - 42%
Apartment / multi-family increase - 37%

"Adams County experienced significant increases in value reflecting the strong economic conditions across the Denver Metro area," said Adams County Deputy Assessor Tom Swingle. "The Assessor's Office encourages property owners to review their accounts online to make sure the details of their property are listed correctly."



Arapahoe County

Median residential increase - 42%
General Commercial Change - 22%
Apartment / multi-family increase - 20%

"The areas within Arapahoe County with the largest gains in residential property value were Aurora, Littleton, and Englewood," said Arapahoe County Assessor PK Kaiser. "Single family residential properties with the greatest level of demand and highest percentage increases were found in the lower price tiers while the market for higher value homes was slightly softer, resulting in moderate percentage increases."



Boulder County

Median residential increase - 35%
General Commercial Change - 41%
Apartment / multi-family increase - 44%

"Boulder County continues to be a desirable place to live and work," said Boulder County Assessor Cynthia Braddock. "The latest property values recognize the desirability of the county and the strength of the real estate market during the appraisal period which ended June 30, 2022. We encourage property owners to double-check their property information and review comparable property sales via our website. If they find any errors or disagree with the values, they are encouraged to file an appeal by the June 8 deadline."
WATCH: Why Colorado property tax bills are going up (and the legislature might do about it)
Assessors released a map showing the counties that make up the six assessment regions in the state: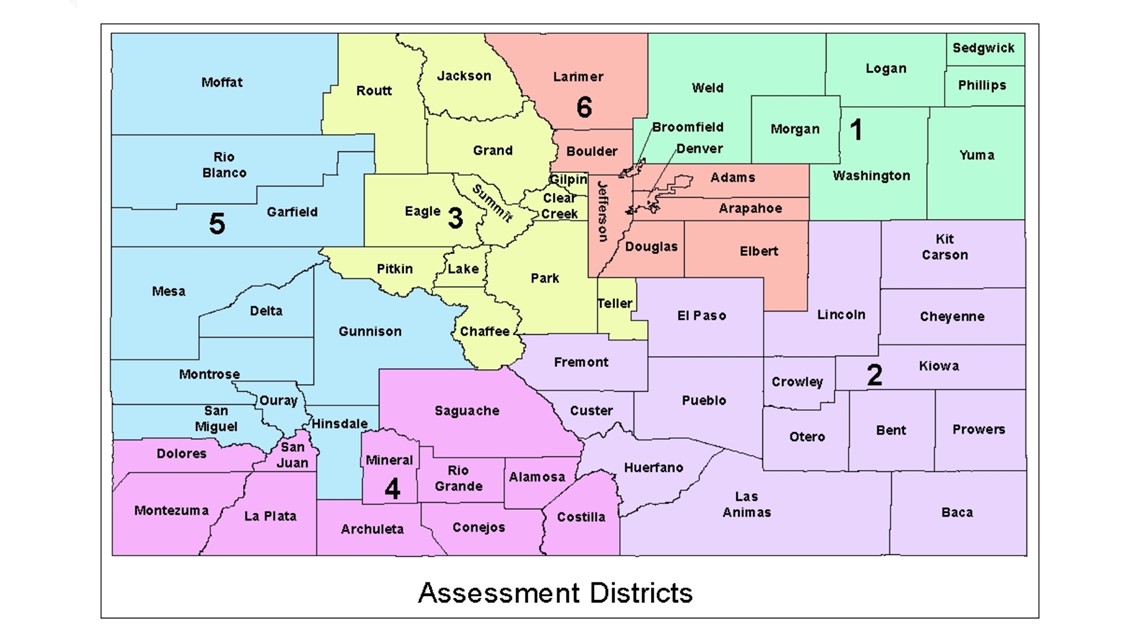 They also released the median residential increase rate for each region:
Region 1: Residential median increases of 25% - 35%
Region 2: Residential median increases of 20% - 50%
Region 3: Residential median increases of 40% - 60%
Region 4: Residential median increases of 30% - 50%
Region 5: Residential median increases of 30% - 60%
Region 6 (Denver Metro): Residential median increases of 35% - 45%