DENVER — Fired Denver principal Kurt Dennis filed a lawsuit Tuesday against Denver Public Schools and the school board members who voted to fire him, claiming he was illegally terminated in retaliation for speaking to the media about safety concerns and criticizing the district.
"They fired him for a whole laundry list of reasons having nothing to do with the truth," said David Lane, the attorney representing Dennis. "The actual reason they fired him is he criticized DPS's policy about allowing violent children back into the schools before their pending charges are resolved."
In March, Dennis, the former principal of McAuliffe International School, raised concerns in an interview with 9NEWS in the aftermath of a shooting at East High School in Denver. In that incident, a student who had been expelled from the Cherry Creek School District shot and wounded two staff members, Jerald Mason and Eric Sinclair. They were performing a daily pat-down of the 17-year-old student, as part of a district safety plan.
At that time, Dennis told 9NEWS staff at his school were performing similar daily pat-downs of a student who was charged with attempted murder in February of this year.
The lawsuit says staff at the school were directed by the district to do a threat assessment for the student and found there was a "high level of concern."
Dennis and his administrative staff did not feel safe with the student at school without more training or support to make sure a weapon was not brought to school, the lawsuit says. In addition, the lawsuit claims that Denver Police recommended that the student not be on campus.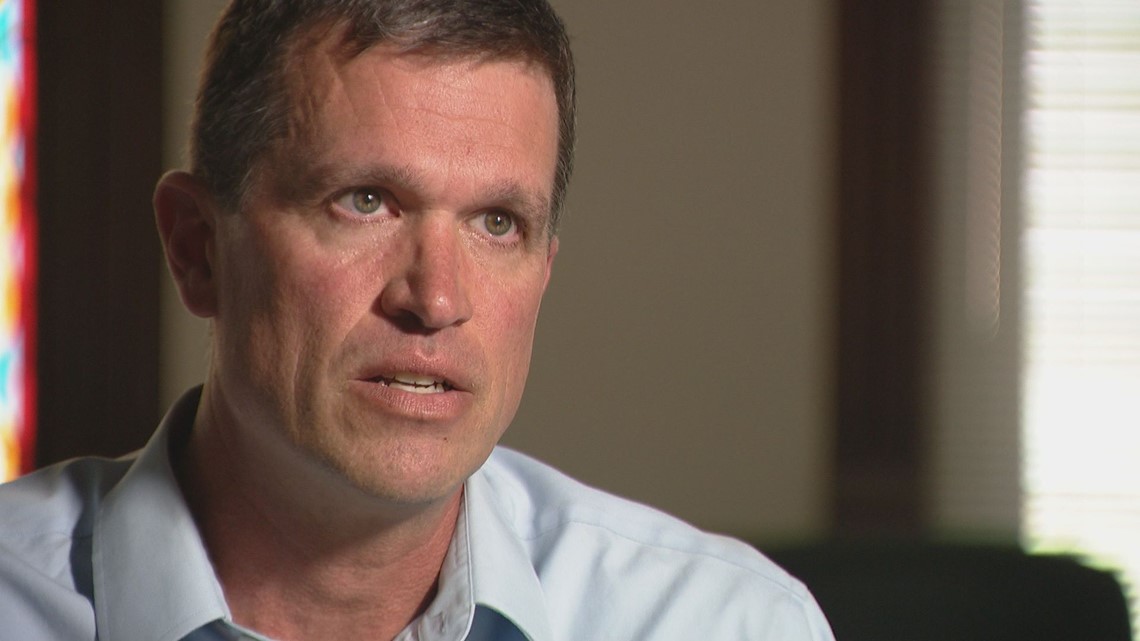 When the student demonstrated "dangerous and unsafe" behavior while at school in late February, Dennis said he asked the district to move the student to online learning or to suspend him, but both were denied. The student returned to school, and according to the lawsuit, staff were required to pat him down for weapons despite not having any "training or guidance" to do so.
The lawsuit says Dennis provided the media with documents related to the student's charges, but notes they are "public" and identifying information was redacted. It goes on to say since that information was public, it was not protected from disclosure under the federal Family Educational Rights and Privacy Act (FERPA).
Lane said the student's identity was no secret to the school community and that when Dennis spoke publicly about the situation, he was "careful" to protect the student's identity. The lawsuit says his actions were "entirely lawful and carefully considered."
"He never gave up any identifying information at all," Lane said. "DPS is saying, well, everybody knew who this kid was after Kurt went on TV and told the story. The truth is everybody knows who this kid is anyway because he's the kid that gets greeted at the door every day by administrators. He's the kid with the ankle bracelet on, put there by the court. He's the kid that gets taken to the office every day. He's the kid that gets followed around from class to class by administrators every day. This is no secret. These kids that go there aren't idiots. They know what's going on."
In the weeks before his formal firing, DPS board vice president Auon'tai Anderson publicly claimed he had received whistleblower reports that Dennis improperly used a de-escalation room at McAuliffe International during the 2022-2023 school year.
The lawsuit alleges that several board members publicly called them "incarceration rooms" in an effort to turn public opinion against Dennis. Anderson also insinuated that Dennis might have engaged in criminal conduct. As of now, an investigation by the Denver Police Department is ongoing.
Board members also made accusations, according to the suit, that the rooms were used "exclusively" for students of color.
Last week, DPS revealed the findings of its investigation into Dennis' usage of the room at the school. The report concluded that he violated policies that require an administrator to be in the room with a student at all times. It found race was not a factor.
The suit acknowledges one occasion when Dennis was not in the de-escalation room with a student. It says in that instance, the student was "physically violent" toward Dennis. With no policy about what to do, Lane said Dennis' "common sense" kicked in and he left the room for his "own safety." The student was monitored through a door window until the student was de-escalated.
"DPS has turned the world upside down by saying, well if you look at the room, the drywall had holes in from violent kids punching holes in the wall," Lane said. "Well, yeah, that's the point. Violent kids punching holes in the wall. Do you want to be the administrator in that room with a kid that's able to punch a hole in the wall? The answer to that is no."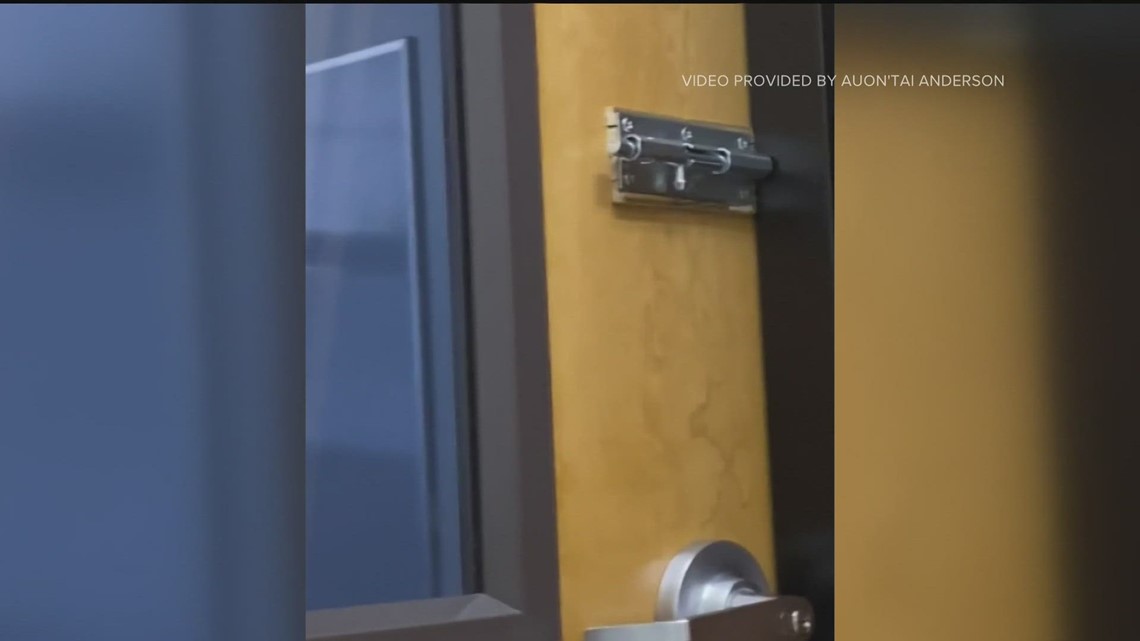 At no time, according to the suit, was any student locked in a room and left unmonitored.
Lane said there was no camera or recording device in the seclusion room.
The lawsuit also acknowledges that Dennis placed a small latch on the door. It claims he did so because students engaged in a "tug-of-war" with Dennis to open the door and it was necessary to prevent someone's finger from getting slammed in the door.
That latch was later removed when staff raised concerns about being accidentally locked into the room with an escalated student and being unable to escape, the lawsuit says. Lane said Tuesday it was "never actually used."
"I think it's important to note, we have information that at least one student wanted to be alone in that room," said Madison Lips, another attorney representing Dennis. "So that's a hypertechnical policy violation. If a child wants to be alone and you not in the room with them, that could be considered a policy violation. I think we're talking about really difficult split-second decisions that an administrator has to make that anyone would struggle to say, what do you do in this situation?"
A district spokesperson told 9NEWS Tuesday that they had not been served the lawsuit and were unable to comment on any of the allegations.
9NEWS has also reached out to every board member named in the lawsuit. The only one to respond so far is Anderson.
"I'm excited Mr. Dennis has decided to go forward and file a lawsuit because it will be able to prove that the claims of seclusion are not only validated, but I'm hopeful that the community will be able to read the witness testimony that details the individual experiences of students in those rooms," Anderson said in a statement.
"It's important for our community to get closure on this entire situation but also learn a lesson to ensure that this never happens again."
The lawsuit claims Dennis suffered lost wages and damage to his reputation and seeks compensation for past and future economic losses. His lawyer, Madison Lips, said the allegations by DPS board members have harmed his reputation as an educator and his ability to find another job.
"He continued to work on that, but he hasn't had luck finding a principal position, that's for sure, and he's trying to find any comparable position he can, but schools are backing away because of the harm of his reputation, and that's a big part of our claim," Lips said.
"[Dennis] simply hopes that justice is done, his name is cleared and DPS is held accountable for all of their misdeeds in this case," Lane said.
Lane said the suit could take at least a year, if not longer, to move through the court system. He said they also could reach a settlement with the district.