DENVER — Gov. Jared Polis (D) said 70.7% of Coloradans age 70 and up have been vaccinated as of Feb. 28, meaning the state is 101% to its previous goal of vaccinating 70% of residents age 70 and up.
"We've made tremendous progress...that will significantly bring down the death rate and reduce hospitalization rates," Polis said.
Polis gave that update at a Tuesday news conference on the state's response to the COVID-19 pandemic as it prepares to receive its first shipment of the Johnson & Johnson vaccine this week.
> Video above: A look at vaccination phase changes.
Johnson & Johnson COVID vaccine in Colorado
Polis said he expects those doses to be administered by Sunday.
"We're going to get them, and we're going to use them within a few days," Polis said.
COVID vaccine distribution in Colorado
Polis said Tuesday that the state is expecting more COVID-19 vaccines to be delivered in the coming months.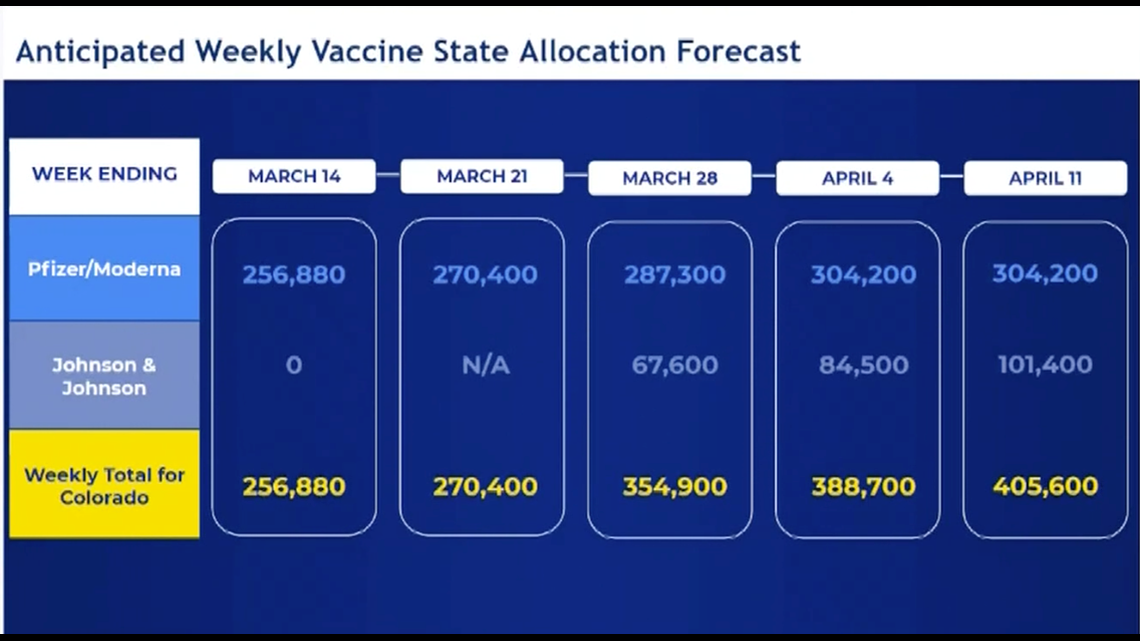 "News of increasing supply is a very, very good thing," Polis said. "We're confident we'll be able to deploy 450,000 a week when we reach that cadence in [April or May]."
Changes to the phases of distribution were also recently announced, including new information about Phase 1B.3 and 1B.4.
Phase 1B.3 includes about 958,000 people who will become eligible to receive the vaccine on March 5.
The Phase 1B.4 group is much larger and includes an estimated 2.5 million Coloradans, including those 50 and older, who could become eligible to receive the vaccine as early as March 21, officials said Friday.
How to sign up for a vaccine
Polis announced last week that those 60+ will be eligible for the COVID-19 vaccine on Friday, March 5, along with some frontline essential workers, such as grocery store employees, as the state nears its goal of vaccinating 70% of those 70 and older.
"If you're eligible soon, you can start signing up by Friday," Polis said, adding that signing up doesn't mean you'll get the vaccine the following day, but rather be put in line for when one becomes available. "All our partners expect to have signups live by Friday."
To find contact information for providers across Colorado:
Wait times on phone are minimal now, 1-2 minutes, Polis said.
Asked if people could choose which vaccine they wanted, Polis said when people sign up and are contacted for an appointment, they'll be informed at that time which vaccine they'll get.
"If they don't want that, they can wait and sign up again...but they may have to wait," Polis said, adding that all three vaccines are effective, safe and will save lives.
When will things be back to normal in Colorado?
Polis said that people should continue to adhere to COVID-19 precautions, such as wearing a mask, staying 6 feet apart from others, washing hands frequently and avoiding interacting with anyone outside their household when possible.
Those precautions, as well as an increased supply of the vaccine, may lead to an end of pandemic regulations by summer.
"I'm confident that by summer we'll be very close to normal based on these vaccine predictions that we have today," Polis said.
He added that it does, however, depend on the supply of the vaccine and variants that arise. So far, officials said two variants have been identified in Colorado: the B117 strain first discovered in the United Kingdom, and the L452R variant discovered in California.
Officials said there is research suggesting that variants could become the dominant strain in the U.S. by April, which could lead to a spring surge in cases.