DENVER — Those who carry all they own need a safe place to store it.
"When you're homeless, you carry your house with you," said Benjamin Dunning, an organizer with Denver Homeless Out Loud.
In May 2017, the city tried to address the problem by installing ten storage lockers in front of the Denver Rescue Mission near Park Avenue and Lawrence Street. The city paid $30,000 for the 90-day sidewalk storage pilot program.
"Some of our discussion was like, well, we can build stuff for cheaper than that," Dunning said. "That seems like a lot for a place to lock up your stuff."
Denver Public Works installed the lockers and kept watch over them during the program, which lasted about 14 months. Denver Human Services decided to pull the program after hearing concerns from the shelters and Denver Police.
"The biggest concern for us was really that someone was going to get inside of this unit, sleep and maybe pass away," said Julie Smith, spokeswoman for Denver Human Services.
Smith said the city received unconfirmed reports of illegal activity involving the storage lockers. They also had a tough time keeping in touch with those using the lockers. She said one man using a locker moved out of state without telling anyone. Then there were the break-ins.
"The units were being burglarized, broken into, locks broken off," Smith said. "Some folks were not keeping them locked which was a condition of the user agreement."
Smith said the city was considering moving the storage lockers to a local non-profit that works with job placement. She also pointed out that the St. Francis Center offers 500 indoor storage lockers at its two city locations. Meanwhile, Denver Homeless Out Loud continues to work on different-sized, outdoor solutions.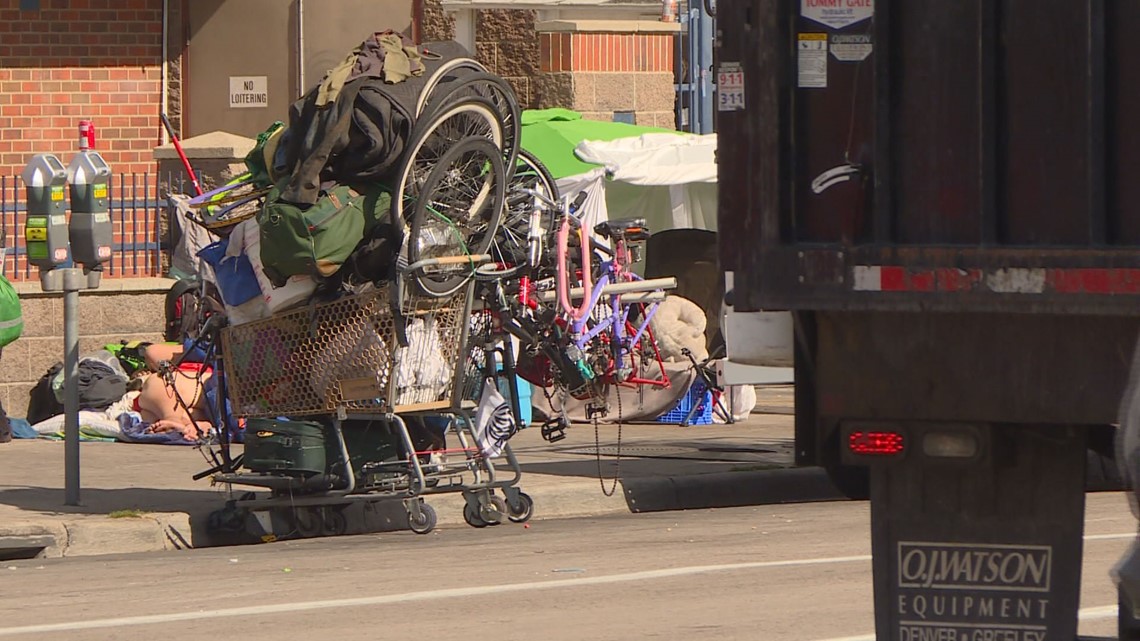 "I think the greater need would be for gym-sized lockers," Dunning said.
The lockers outside the Denver Rescue Mission were designed to hold bikes.
"Large enough that you can put a shopping cart into which maybe isn't a bad idea, but that may not be the place to start if you want to help out a whole bunch of folks," Dunning said.
"The city spent several thousand dollars on their locker solutions and ours cost 80 dollars," said Kayvan Khalatbari, co-founder of Sexy Pizza.
Khalatbari talks politics as well as pizza. He's running for mayor in 2019, but he understands the struggles facing the homeless population better than most.
"A little over ten years ago, for ninth months when I started my first business, I was actually homeless on the west side of Denver," Khalatbari said. "Slept in a tent in the backyard of a house for three months, in my truck for another month and on a buddy's floor in Cap Hill for another four or five months."
Khalatbari hopes other business owners will be open to offering storage space on their property for the local homeless population. A $15,000 grant from the Hemera Foundation, Bonfils-Stanton Foundation and Colorado Creative Industries will allow Denver Homeless Out Loud to expand the locker program to other Denver businesses.