DENVER — The trucking company involved in a crash that killed five members of a family on Interstate 25 last year tried to buy insurance minutes after the deadly crash.
Colorado State Patrol said the driver of the truck didn't have a valid commercial driver's license. Police documents show the brakes were out of alignment. And documents filed in federal court now show the truck also didn't have insurance.
"It's just harder to get the justice that they all deserve," said Desiree Everts, who lost her daughter and granddaughter.
Aaron Godines and Hailie Everts were killed, along with their baby daughter. Aaron's parents Christina and Emiliano were also in the car and died.
A man named Jesus Puebla faces five counts of vehicular homicide for the June 2022 crash. He ran into the back of the car stopped for traffic at 75 miles an hour. Lawyers representing the family said insurance had lapsed on the truck operated by a company called Caminantes trucking. They said Caminantes had nearly 100 trucks on the road around the country without insurance.
"Caminantes had a reported 92 trucks operating on U.S. roads and highways and not one of them or their drivers were covered with insurance," Grant Lawson, an attorney representing the Godines family, told 9NEWS in a statement.
The crash happened at 1:27 p.m. on June 13, 2022. Documents filed in a federal lawsuit allege the trucking company tried to add the truck to its insurance plan at 2:50 p.m. that same day, just over an hour after the deadly crash.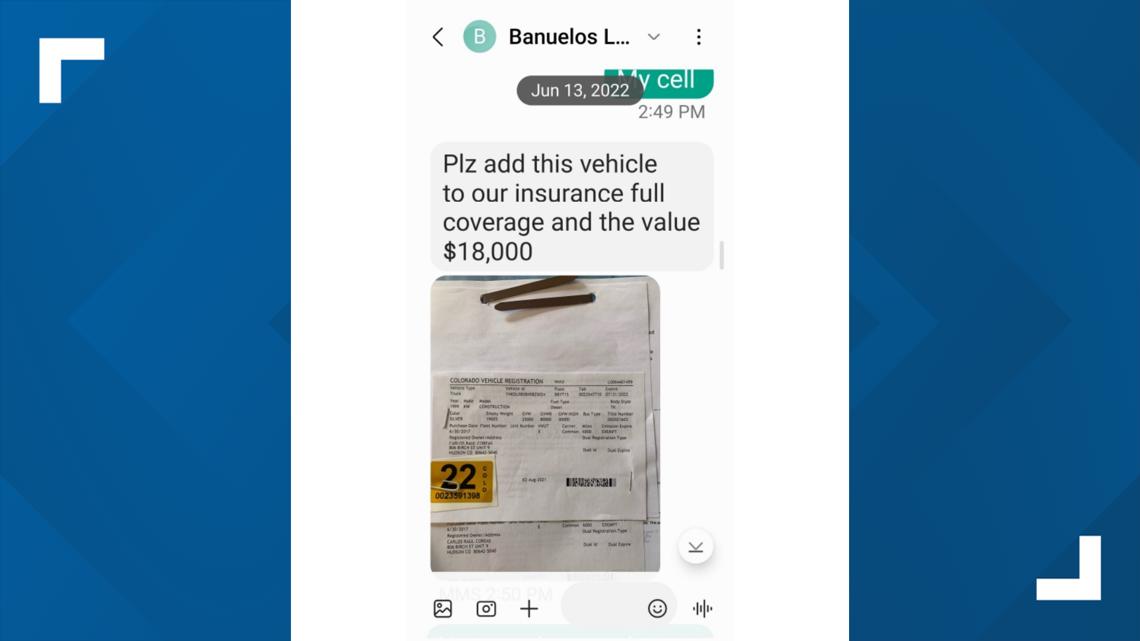 "Disgusted and upset," said Everts. "Unbelievable."
The truck was carrying mail for the United States Postal Service (USPS) when it crashed. It took months after the crash for the postal service to terminate its contract with Caminantes, even after they found out the driver didn't have a license.
"At the time of the issuance of the contract, the Postal Service received the necessary and required insurance validation by Caminante Trucking," a spokesperson for USPS told 9News on Tuesday.
It is not clear how often USPS asks companies it contracts with for updated proof of insurance or if USPS knew that the Caminantes truck involved in the crash did not have insurance in June of 2022.
When there's no insurance, the payout to the family of those who died becomes difficult to get.
"What will happen is a truck company gets insurance and then they let it lapse," said Leizerman. "When there's no insurance, there are times when we are very frustrated and have to say there's nothing we can do."
Lawsuits and trials continue. Puebla's criminal trial in Weld County is expected to begin in November.
The federal agency in charge of regulating trucks declined to shut the company down last year after the crash that killed five, fining them only $21,460.
"I hope and pray that there will be justice sooner or later from all of this," said Everts.