DENVER — The traditional end of summer message to kids: good luck in school. Now some parents are telling their kids good luck getting to school.
School districts are short hundreds of bus drivers, so some are canceling bus routes and others are making students walk miles up hill both ways.
"Typically I walk down to the bottom of the driveway," said 17-year-old Bella Langmuir. "It's not dangerous so long as I don't run."
Every day at 6:08am, Bella meets her school bus at the bottom of her driveway in Coal Creek Canyon. Bella and her older brother have been picked up in the same place for the past 15 years. But when school starts up next week, her walk to the bus stop will be much longer.
"My parents have instructed me that when I am walking on a road to walk in this [ditch] because it's safer here. But it's more difficult," Bella said, pointing to a culvert on the side of a mountain road near her house.
Because of a lack of bus drivers, Jefferson County Public Schools is doing away with individual bus stops and moving to a system of hubs across a neighborhood where students all get picked up together.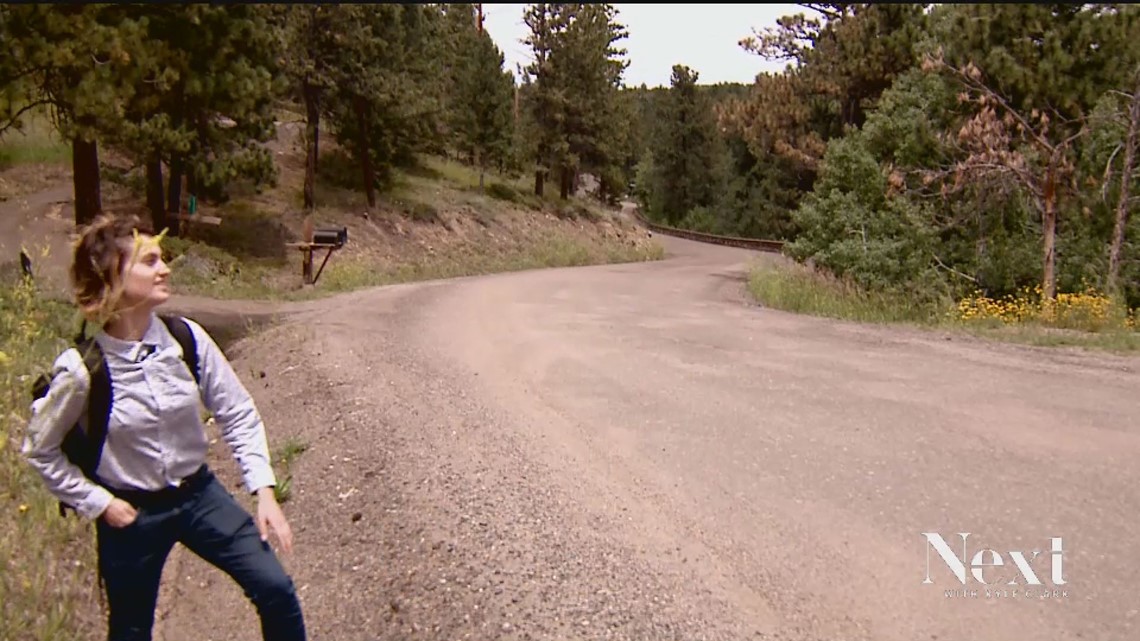 "To serve the most students possible with transportation services we have designed hub stops across the entire district. A hub stop is a central gathering spot that can serve student riders from a common area," a spokesperson for Denver Public Schools told 9NEWS. "We acknowledge that having buses come into all neighborhoods is most convenient for students and families, but that model is no longer sustainable given the national school bus driver shortage."
For Bella, that means a 1.4 mile walk to the bus on a dirt road in the mountains. No sidewalks, no street lights, plenty of wildlife.
"I mean, I'm not too worried about myself because I'm 17 years old, I'm five foot three and I'm loud so a cougar is probably not going to appear because they look for easy targets. But little kids do count as easy targets," Bella said.
Bella's mom, Betsy Abbott, knows she's not alone in worrying about how her daughter will get to school.
"You want a fourth grader hiking alone in two feet of snow standing around waiting for the bus to come?" Betsy said. "My daughter has to walk 1.4 miles on a dirt road. We don't have sidewalks. We do not have street lights."
The hubs where buses stop at five or six centrally located spots is an easier solution in a suburban neighborhood where everyone lives close by. When you get up to the mountains, it's a totally different reality.
JeffCo is down 19 school bus drivers. That's bad, but not even close to the worst. Boulder is down 40 to 50 drivers. And Douglas County is short 104 drivers, operating with just 55% of their necessary staff. In DougCo, the district has decided to implement rolling cancellations. Every fifth week, certain bus routes will be cancelled for five days because of the shortage.
The commute for Bella isn't so bad right now. But walking through winter will be challenging.
"It'll be interesting. It's not like I haven't come to school in snow pants before, it's just that they'll be much more crucial," Bella joked.