FOXBOROUGH, Mass. — Sorry, guys. Practice does matter. It is important.
Exhibit A: The Broncos-Patriots game Sunday at empty Gillette Stadium in Foxborough, Mass.
With no fans in the stands, the Broncos looked sharp for three quarters, then held on for an 18-12 win against the heavily favored but error-filled Patriots. Broncos placekicker Brandon McManus continued his career-best season by making 6 of 6 field goals, including one from 52 yards with 19 seconds left in the half and 54 yards with 37 seconds remaining in the third quarter.
It was McManus' NFL-record sixth game with multiple 50-yard-plus field goals.
"This was definitely a special one,'' McManus said when asked if it was best-ever game. "Especially for me coming back here -- it's been seven years since I came back in 2014. This kind of started the run, I guess, when the Broncos cut me. I hit a 41-yarder off the right upright, then a week or two later after the Dolphins game they ended up cutting me. This place is special for me to kind of come back and perform like that. It's always difficult to kick here in a stadium like this."
The Patriots entered the game as 9-point favorites but it was the Broncos who were up 9 at the intermission. And the Broncos were up 18-3 early in the fourth quarter before the Patriots' Cam Newton finally put together a touchdown drive with a long completion, long run, and 1-yard scoring plunge-and-reach.
Broncos quarterback Drew Lock was then intercepted on back-to-back pass attempts in the fourth quarter. The first led to a Patriot field goal that closed the gap to within 6 points.
The second led to the Patriots turning the ball over on downs at the Broncos' 24 with 1 minute remaining.
"Very, very anxious,'' Lock said after his second pick that came on a deep pass attempt into double coverage on first down. "That's our offense, though. We're going to take shots. The first one was 100% on me. ... If I just throw it the way I've been throwing it the whole game ... it would have been fine. Wouldn't have been able to throw the second pick. Possibly scored, get other field goal. I would have been sipping Gatorade on the sidelines instead of biting my nails.''
The biggest star of the game, besides McManus, may have been Broncos coach Vic Fangio. Receiving his share of criticism early in his Bronco tenure, Fangio seemingly outcoached the Bill Belichick Patriots. Fangio's patience and attitude through the COVID-19 delays gave his team the proper mindset to go on the road and beat a New England team whose average won-loss record the previous 19 seasons was 12-4.
"Like I've said before, our guys have been fantastic in handling everything that comes with COVID,'' Fangio said. "It started in training camp. But it was stressed this past two weeks, obviously with the game having three different scheduled dates, the guys losing their bye week, everything that goes with that.
"I think they were a lot like me in a way in that, yeah, you're mad, you're disappointed, you're frustrated, you wonder why. Five minutes later you take a deep breath and you move on. I've tried to get the guys to think that way. I think they have.
"They are a tough-minded group of people. I think that was on display today. To come up here and win that game, the way it turned out -- it could have been an easy win where we were high five-ing each other for the last three or four minutes of the game. As is the case sometimes in the NFL, that's not the way it turned out.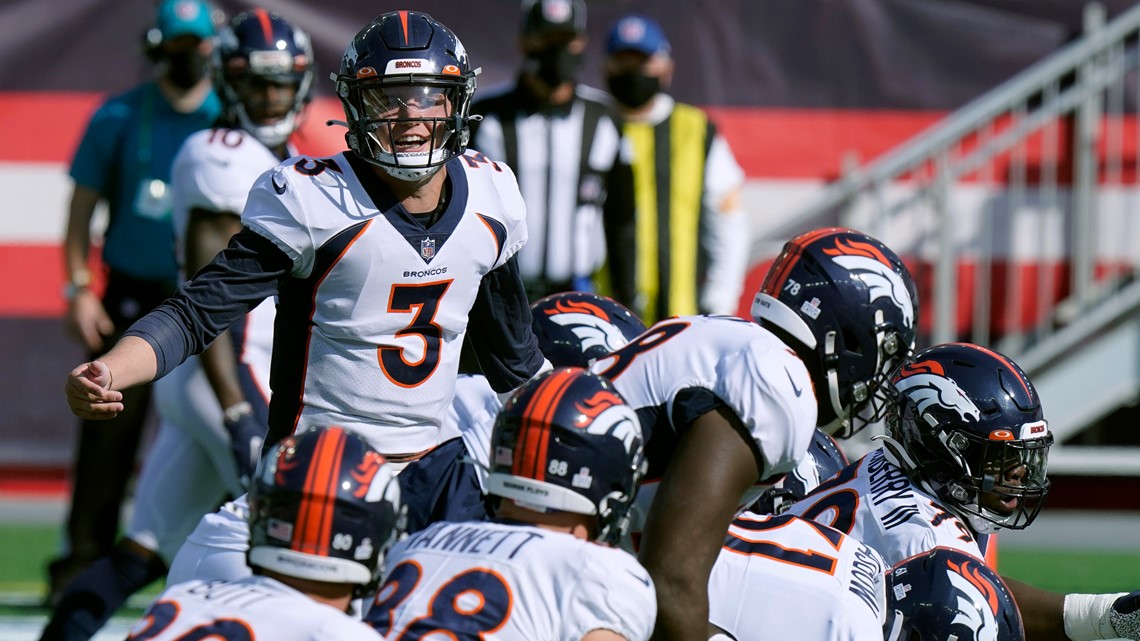 "It took all that fortitude that we are using to deal with COVID to go win that game. I do think there's a carryover."
The Broncos are now 2-3 -- not bad considering they started 0-3 -- while the Patriots fell to 2-3. The Broncos host the defending champion Kansas City Chiefs next Sunday at Empower Field at Mile High.
It also helped that Fangio was able to run his Broncos through two weeks of practice. After 17 days off, the Broncos came out as if they had been practicing all along while the Patriots played with the rust of a team that spent the past two weeks doing little else but participating in virtual meetings. Which was the case as multiple positive COVID-19 cases within the Patriots' locker room the past two weeks forced the team to shut down its facility periodically and twice delayed its game against the Broncos.
"We need more time together, we need to practice together, we need to execute and do everything better,'' Belichick said. "No question about that."
The Broncos were up 6-0 in the first quarter and the Patriots were lucky it wasn't worse as visiting Denver dominated both sides of the ball. Broncos quarterback Drew Lock, playing for the first time since suffering a shoulder injury four weeks ago, dropped in his first pass attempt downfield to Tim Patrick, who caught it for a 41-yard gain. That set up a 45-yard field goal by Brandon McManus.
Then the Denver D pushed around the Patriots offense. Shelby Harris deflected a screen pass attempt by Cam Newton, the Patriots' star quarterback who is now 0-4 lifetime against the Broncos. Harris' fellow defensive lineman DeShawn Williams, a veteran making his first NFL start, sprawled to make a fingertip interception. Again, McManus came through, this time with a 44-yard field goal.
After loosening up the Patriots defense with some deep pass attempts in the first quarter, Lock found his former college teammate Albert Okwuegbunam over the middle in the second quarter. Inactive through the Broncos' first four games, Okwuegbunam made his NFL debut count in place of the injured Noah Fant.
On the Broncos' first series of the second quarter, Lock connected with Albert O for 18-yard and 27-yard completions, setting up first down at the New England 11. Again, the Patriots' red-zone defense was better than the Broncos' red-zone offense. This time McManus only needed to convert a 27-yard field goal for a 9-0 lead with 12:17 left in the second quarter.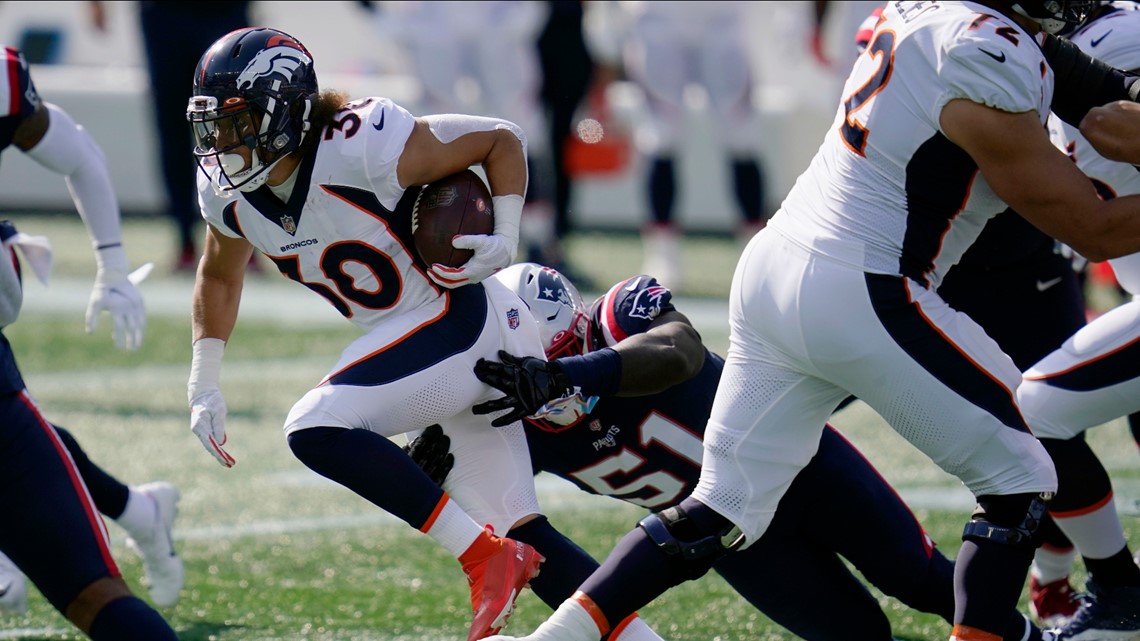 The Patriots managed to put together a field goal drive but a bad snap and heavy pressure applied by Fangio's Denver defense kept Newton well away from the end zone.
Until the past two games, Fangio had blitzed on roughly 15 percent of the defensive snaps, which was among the league's least. He's blitzed considerably more the past two weeks -- to victorious results.
"Well, unbeknownst to you and everybody else, at one time I was the leading blitz-krieger in the NFL,'' Fangio said. "I've been, I don't know, calling defenses now for 20-some years. The last few years with the teams I had in San Francisco and Chicago, we didn't need to. But it's there when it needs to be had. Obviously we needed to have it today.''
Phillip Lindsay, the Broncos' running back playing for the first time since suffering a turf toe injury in the season opener, had 101 yards on 23 carries. He started in place of Melvin Gordon, who came down with strep throat late in the week after he was arrested on a DUI charge earlier in the week.
"I feel like I've got to get some rust off,'' Lindsay said. "I think that it was a shock to my body, being out month, a month and a half, and then going in there and getting hit like that. I've got to clean up a lot of things. But yeah, my offensive line did a great job. They protected me and they got me going. I'm proud of them.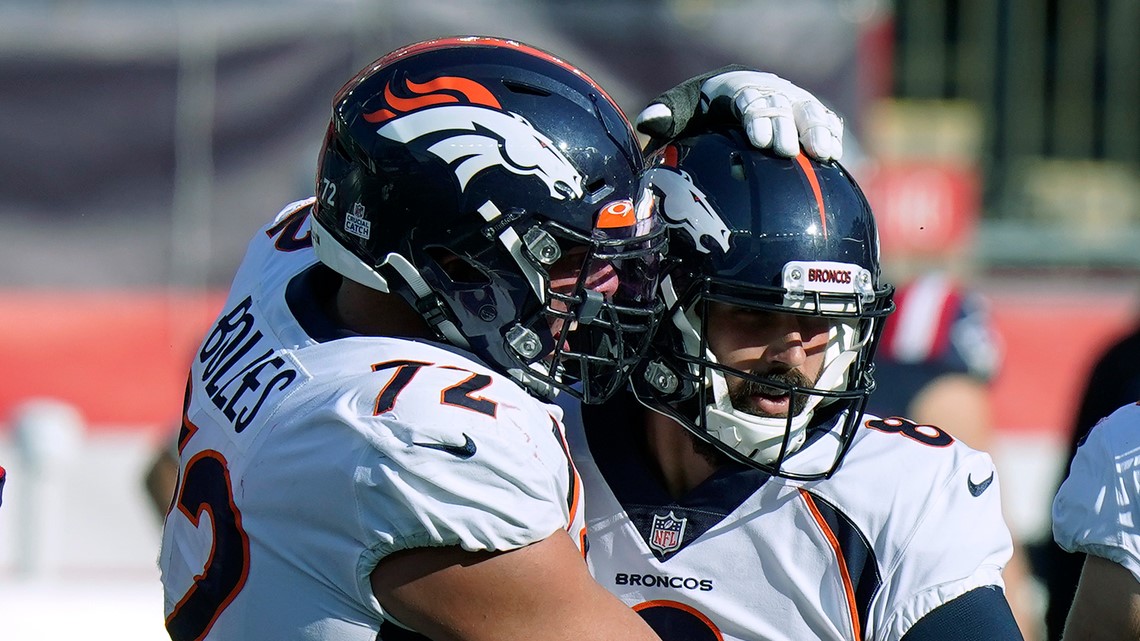 "As a team now and as an offense, in a way, it's embarrassing not to get a touchdown when you're right there.''
Lock was only 10 of 24 for 189 yards with two late interceptions that nearly cost his team the game. Tim Patrick had his second consecutive 100-yard receiving game with 101 on four catches.
The Broncos had a 9-minute, 7-second drive on their first series of the second half. Despite a first-and-goal from the 5, they again settled for a McManus field goal.
"He definitely allows us to take a deep breath there, call what we feel like, call what we want,'' Lock said about having the comfort of McManus behind him if the series stalls. "But as an offensive side of the ball, offensive group, we know we got a lot to work on. We appreciate or defense and our special teams.
"It's a very bright future for us here without a doubt. I'm excited to keep working with these guys because we can be a special football team.''
Fangio's Denver D forced the Patriots into three turnovers -- interceptions by Williams and Bryce Callahan and a forced fumble by rookie cornerback Michael Ojemudia that was recovered by Justin Simmons.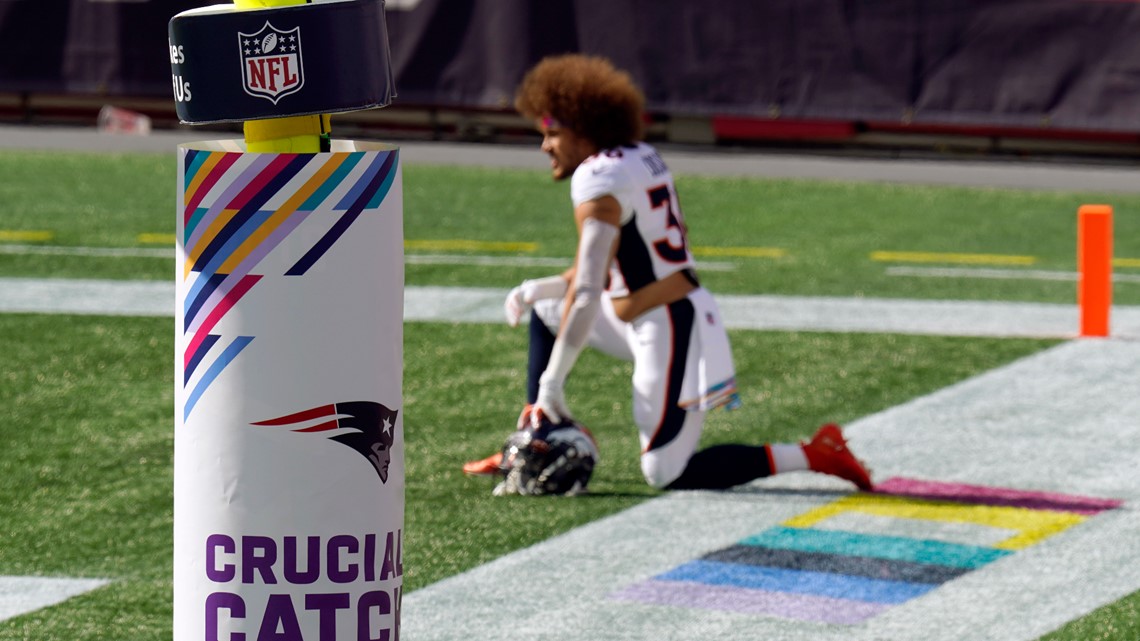 Bronco Bits
Fangio gave game balls to McManus, who should win his second AFC Special Teams Player of the Week award when it's announced Wednesday, and running backs coach Curtis Modkins, who stayed behind after testing positive for COVID-19 on Saturday morning. ...
Left guard Dalton Risner and returner Diontae Spencer both suffered shoulder injuries in the game and did not return. Linebacker Josh Watson suffered a hamstring injury. All will undergo further tests Monday.