DENVER — All was going swell for the Denver Broncos.
They made big play adjustments by unleashing rookie Marvin Mims Jr. They scored touchdowns on each of their first three possessions, something they hadn't done in 13 years. They were getting a sack a series against Washington's talented but inexperienced quarterback Sam Howell.
The Broncos were up 21-3 early in the second quarter.
A lost fumble by quarterback Russell Wilson and ejection to safety Kareem Jackson changed momentum. Howell and Washington running back Brian Robinson Jr. started playing like Steve Young and Roger Craig.
Washington rallied to win, 35-33 on an otherwise spectacular sunny and 84-degree warm mid-September Sunday afternoon at Empower Field at Mile High.
"We give them the ball at midfield, and that momentum shifts at that point with the fumble,'' said head coach Sean Payton, who seemed frustrated with his quarterback after the game. "I didn't think we played well defensively. Second half, I think they were 100 percent—every time they entered the red zone they scored a touchdown.
"Offensively, we were slow with our communication. That was frustrating. That has to start with us, with me. We never got the momentum back. It was disappointing."
The Broncos nearly pulled off a final-play miracle. Trailing, 35-27 with 3 seconds remaining and the ball at the 50, Broncos' quarterback Russell Wilson's heave toward the end zone landed about 5 yards short. But the ball was twice batted backwards until Broncos' receiver Brandon Johnson snagged it in the end zone. Touchdown. It was 35-33.
"That's one of the craziest plays I've ever seen,'' said right tackle Mike McGlinchey. "I haven't seen many Hail Mary's work on the opposite side of the (goal line). That was pretty cool. I thought we had a chance on that 2-point conversion there. I don't know what happened. No call. But not for us to decide.
On the 2-point try, Wilson's pass to Courtland Sutton -- who appeared to be tackled early, only to have a nearby ref freeze on throwing the flag -- fell incomplete. Ballgame.
"There's enough cameras out there and enough TV coverage that everyone can watch it and figure out for themselves what may have happened,'' Sutton said about whether it should have been pass interference. "Russ gave me a chance to make a play and just got to find a way.''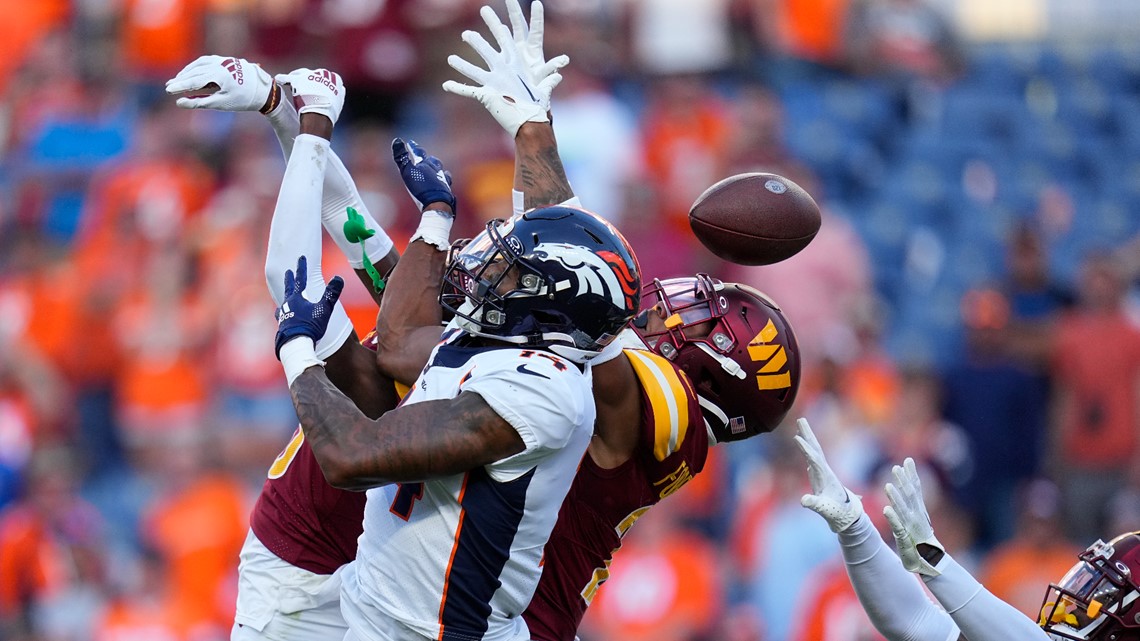 Broncos lose, spoiling two ceremonies. Former Bronco DeMarcus Ware was honored in a pregame ceremony for his recent induction into the Pro Football Hall of Fame. At halftime, the Super Bowl XXXIII champs from 25 years ago were honored.
The Broncos have started the Sean Payton Era at 0-2, with both those games played at home and the losses by 1 and 2 points.
"You can't play the way we did in those middle quarters,'' McGlinchey said. "We beat ourselves. There's no excuses. We turned the ball over, gave our defense a short field. Penalties here and there. And not staying on the field. Not converting third downs for three or four consecutive drives and that's when the game turned on us."
"Before you start winning you've got to stop losing. We didn't get that done."
Like Nathaniel Hackett and Wilson in game 2 last year, Payton was frustrated with the slow operation of his offense in game 2 this year.
"There were a number of drives where we were late with personnel, getting out of the huddle we took a while,'' Payton said. "That has to change. We had to burn timeouts in the first half, and I'm not used to that. We have to be better. I have to be better. Russ has to be sharper with getting the play out, and then we have to look at how much we have in. If we need to wristband it, we will."
Wilson was wearing a wristband with the playsheet Sunday. He finished 18 of 32 for 308 yards with three touchdowns, and he was also the team's leading rusher with 56 yards off six scrambles. But there was also an interception, a lost fumble and 7 sacks taken.
"I have to be better,'' Wilson said.
Failing to come up with the Big Play was a big problem for the Broncos in their season-opening loss last week to the Las Vegas Raiders.
Payton made a noticeable adjustment in week 2 as he pushed his two fastest players to the front of his game plan.
Mims and Jaleel McLaughlin are both rookies. Mims, the top rookie as a second-round draft pick, had an 8-yard, end-around rush on the Broncos' first possession to help set up a 5-yard touchdown scamper by McLaughlin, an undrafted rookie.
Mims, a receiver by trade, caught a 60-yard heave from Russell Wilson for a touchdown off the Broncos' second possession.
On series No. 3, Wilson hit Mims on a deep pass again, this time down the left sideline for a 53-yard gain to set up another touchdown. The final play was a 16-yard touchdown pass from Wilson to Brandon Johnson.
The Broncos were up 21-3 with 9:01 left in the first half.
"Yeah, it was part of the game plan,'' Mims said. "(Defensive) looks were there we just hit them. We were efficient with them. It wound up working out."
Not even Peyton Manning had a game where he engineered three touchdowns off his first three possessions during his four magical years with the Broncos. The Broncos scored three TDs off their first three series for the first time since 2010.
Thunder IV, the Broncos' popular mascot who couldn't ride after scores Sunday because of a scheduling conflict involving his rider, must have been trying to kick down the barn doors at his ranch in Bennett. The "O" was back in Broncos.
Even in defeat, Payton is a coach who tries to think of everything, right down to the uniform colors. The Broncos wore white uniforms instead of their dark orange or blue colors at home Sunday. Why? Because the Broncos were celebrating the 25-year anniversary of their Super Bowl XXXIII team this weekend. In that Big Game, John Elway and the Broncos wore white uniforms while dominating Atlanta for a 34-19 win.
And so Payton honored that XXXIII team by wearing home whites.
Payton wasn't about to ignore Big Play Mims in the second game of the season, not after the Broncos' offense scored just 16 points off six, methodical possessions last week in a loss to the Raiders.
To set up possession No. 4. Mims returned a Tress Way punt 45 yards to the Washington 40 yard line. At that point, Mims had two catches for 113 yards, an 8-yard run and a 45-yard punt return – 166 yards in total offense. But he only added one more carry for 2 yards -- with no receiving targets after he tore up the first 1 1/2 quarters of the game.
"Just game plan,'' Mims said about not receiving action in the final 2 1/2 quarters. "Game management and stuff like that. And there was different personnel groups we were working in. That's really all it was."
A scrambling Wilson lost a fumble to spoil good field position and snap the Broncos' scoring streak. As Payton said, it changed momentum.
"The biggest thing is making sure that we stay on schedule," Wilson said. "Making sure that I play cleaner. Can't turn the ball over. ... We have play cleaner there and I have to be better."
Howell took advantage of short field position. The second-year quarterback hit a series of short to intermediate passes to set up first and goal at the 5.
It became and fourth and goal from the 4 when Washington coach Ron Rivera bypassed the chip shot field goal. Howell calmly completed a pass to tight end Logan Thomas in the back of the end zone for a touchdown. Thomas caught it and held on even though he was pulverized in the head area by Broncos' safety Kareem Jackson, who launched into his blow, perhaps the reason why he was ejected from the game.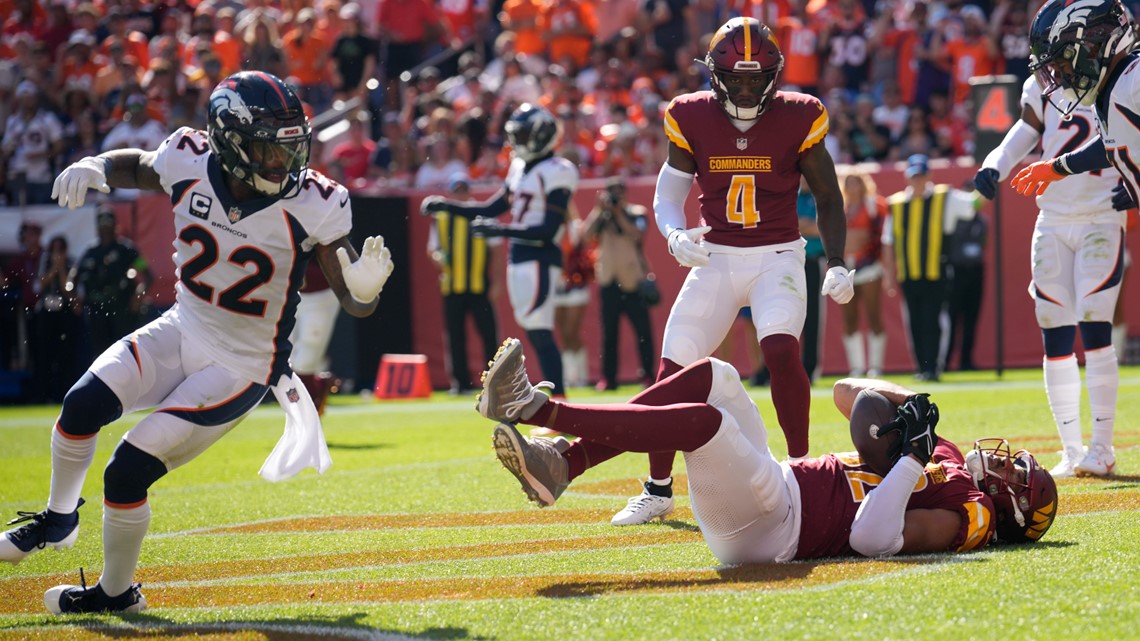 "It was helmet to helmet, it was obvious,'' said Rivera.
The Denver D seemed a bit deflated to see Jackson go.
"It was a tough call,'' said Broncos cornerback Pat Surtain II. "I didn't see the whole thing. You know Kareem, he's a very physical player. It was one of those plays where we needed that stop and obviously football is a contact sport. You've got to do what you've got to do to make plays. … Seeing him come out of the game was a pretty bad move for sure."
Jackson drew an unnecessary roughness penalty last week (and later was fined $14,819) for a hit to the head of Raiders' receiver Jakobi Meyers.
Washington went for 2 and after a review, converted on a run by Robinson.
The other big issue for the Broncos in losing to the Raiders last week was sacks. Or lack thereof by the Denver defense. When it comes to getting sacks, the opposing quarterback may be the biggest factor. Last week, the Denver D had zero sacks against Raiders' quarterback Jimmy Garoppolo. He's played a lot of football and has been beat up multiple times in his career. He knows how to get rid of the ball.
This game, the Denver D went up against Howell, who was making only his third NFL start. Howell was obliterated from the blindside for sacks by Randy Gregory on one drive – which preceded a missed 49-yard field goal attempt – and by Nik Bonitto on the second drive.
Clearly, Howell has yet to grow the proverbially eyes in the back of his head. Jonathon Cooper got the Broncos' third sack to finish off Washington's third series. Cooper later got the fourth sack.
Wilson only attempted 8 passes in the first half, but completed six for 154 yards and two touchdowns. But it was Howell who guided a final minute field-goal drive to end the half with kicker Joey Slye connecting from 49 yards as the half ended, moving the score to 21-14.
After the Broncos' offense sputtered to start the second half with a three-and-out and Wilson interception, Washington scored on a beautiful 30-yard touchdown pass from Howell to Terry McLaurin to tie it, 21-21.
Washington had a chance to take the lead as they had third-and-4 at the Broncos' 25. But Cooper swatted the ball out of Howell's passing hand for a 16-yard loss and Slye missed his field goal from 59 yards.
Cooper, it seemed, had re-directed momentum back to the Broncos. The Broncos behind Wilson used short field position to move to a go-ahead 31-yard field goal by Wil Lutz. The Broncos were up 24-21 late in third quarter.
"That was one of the plays I made where I was hoping things would turn and it looked like it did for a little bit but we have to continue with that energy,'' Cooper said. "I don't know what the trick is or what it is but we've got to be able to finish and we've got to be able to pick up our energy."
Washington answered by using a pass-interference penalty on Surtain -- his second in two games -- and completions from Howell to Antonio Gibson for 36 yards and Cole Turner for 12 yards set up first and goal at their 2.
Robinson ran it in and Washington was up 28-24 with 13:25 left in the fourth quarter.
Robinson finished off another drive with a 15-yard touchdown run with 7:11 remaining to put Washington up 35-24.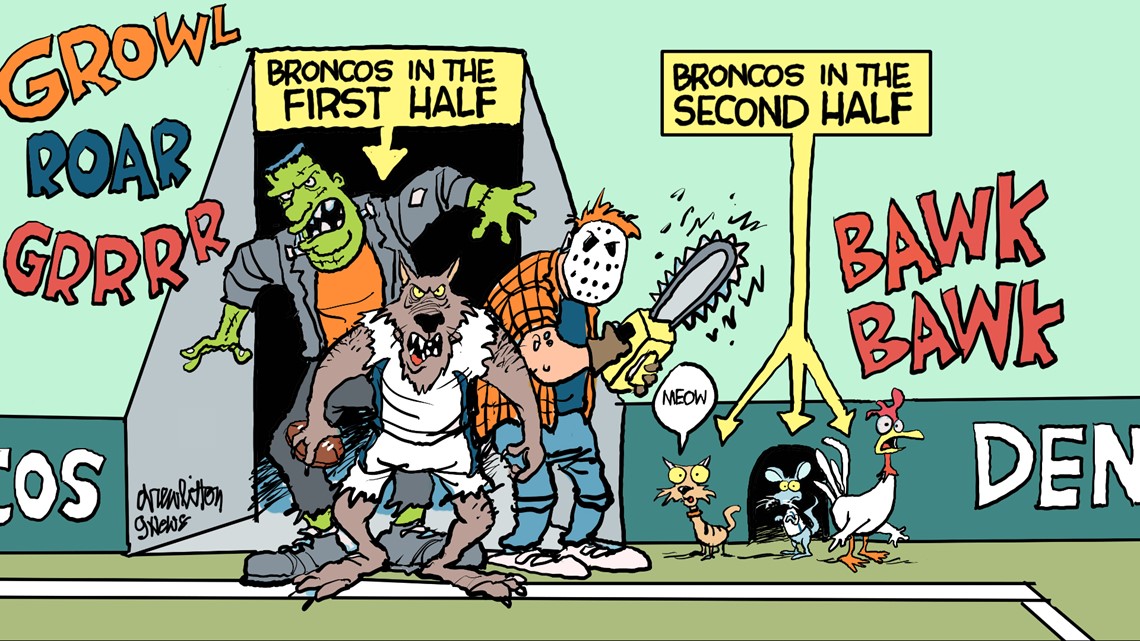 Robinson finished with 87 yards rushing and two touchdowns off 18 carries, two catches for 42 yards and a 2-point conversion.
The Broncos behind Wilson drove down for a short field goal by Lutz that moved them to within 35-27 -- a touchdown and 2-point conversion shy of a tie -- with 1:50 remaining. Washington recovered the onside kick, forcing Payton to use up his timeouts.
But Denver did get the ball back with 48 seconds remaining at their own 13-yard line.
A completion to Sutton, a fourth-down conversion scramble by Wilson and another completion to Sutton put the ball on the 50 with 3 seconds remaining. Then came the heave that was batted back twice by Washington defenders -- right into the hands of Johnson, who was behind the scrum in the end zone.
"It was crazy. Just an old-fashioned Hail Mary,'' Johnson said. "Went down there -- I wasn't the designated jumper but I know a lot of times those Hail Mary's the ball gets knocked around -- and once I saw it get tipped I thought, 'OK, yeah, I might get this one. And I was able to pull it in."
It went for naught, though. The 2-point play never had a chance although it sure looked like a flag should have been thrown.
Commanders at Broncos Sept. 17, 2023
"It's a shame we didn't get that call at the end of the game, we thought it was a P.I.'' Johnson said. "But that's the way the game goes sometimes you can't always get the calls so we'll be better so next time it won't be such a close game."
Having wasted two home games against teams that finished 6-11 (Raiders) and 8-8-1 (Washington) last year, the Broncos must now go on the road to play at high-scoring Miami and then Chicago the next two weeks.
The Denver defense, especially, has to step up.
"I thought we were poor,'' Payton said about his D. "We didn't help them with the field position, with the turnover, but our red-zone defense was poor. First-down defense—we're not fitting certain pressures. We have to look at how much do we have in, defensively, same way. I didn't think we played well, and we're going to see a lot better offenses than that.''
Payton's New Orleans Saints started 0-2 in 2017 and then finished 11-5 to make the playoffs and win a playoff game. But far more often, 0-2 means home for the postseason.
"We just have to get better. You can't pack it in,'' McGlinchey said. "There's 15 games left in the season. We have a really good football team and really good opportunity to still fight and turn this thing around. Bad day today. Unfortunate we didn't get this done when we had it from the start. But the only thing left to do is get better. You can't quit. This is a professional football league and there's a reason we're all here. It's hard -- really, really hard to win."