ENGLEWOOD, Colo. — NFL free agency may be the only event that at first blush seems ideal for the responsible, sedentary American sports fan.
As a non-public event, it would pose minimal health risk. In theory (if not practicality) it can be executed from the protection of home. Cell phone to cell phone. Here's the offer.
Sure, the press conferences with the newly signed player holding up his new jersey would have to be postponed for another month or two.
But think of this: News of flawed veterans players receiving absurdly overpaid contracts may give people hope the U.S. economy can rebound. Given how COVID-19 has either stricken or constrained the world-wise masses, the home-bound America sports fan could use a jolt.
There's only one problem: At least six teams have already completely shut down their headquarters because of coronavirus concerns -- the Falcons, Packers, Eagles, Cardinals, Vikings and Washington.
Free agency is a fast-paced, ever-changing, coordinated effort that involves the team owner since so much money is involved, general manager, head coach, capologist, medical personnel, scouts and assistant coaches and personnel executives.
The six shutdown teams that have people working from home would put be at a considerable competitive disadvantage.
The NFL will decide Sunday whether to delay the start of its league season, and therefore free agency, or keep to its schedule. As its currently listed on the NFL operations calendar, the soft opening of free agency begins Monday with a 48-hour negotiating period between teams and certified agents of players who will become unrestricted free agents by 2 p.m. Wednesday.
And then the free-agent signing frenzy is to begin. If the league sticks to its schedule, the Broncos and general manager John Elway will be ready.
The Broncos have missed the postseason for the past four years but their 4-1 finish with young Drew Lock at quarterback in 2019 brings encouragement Denver is a quality free-agent class away from becoming playoff-caliber again.
The Broncos primary positions of need entering free agency are defensive line, right guard/center and cornerback. An inside linebacker, receiver, running back and backup QB are also needs that could be addressed in free agency if the right player for the right price is available. But otherwise those spots would be subject to restraint and another day.
Here are some free agents who could make sense for the Broncos with the understanding the team would only be signing between three and five new players:
D.J. Reader, defensive tackle, Texans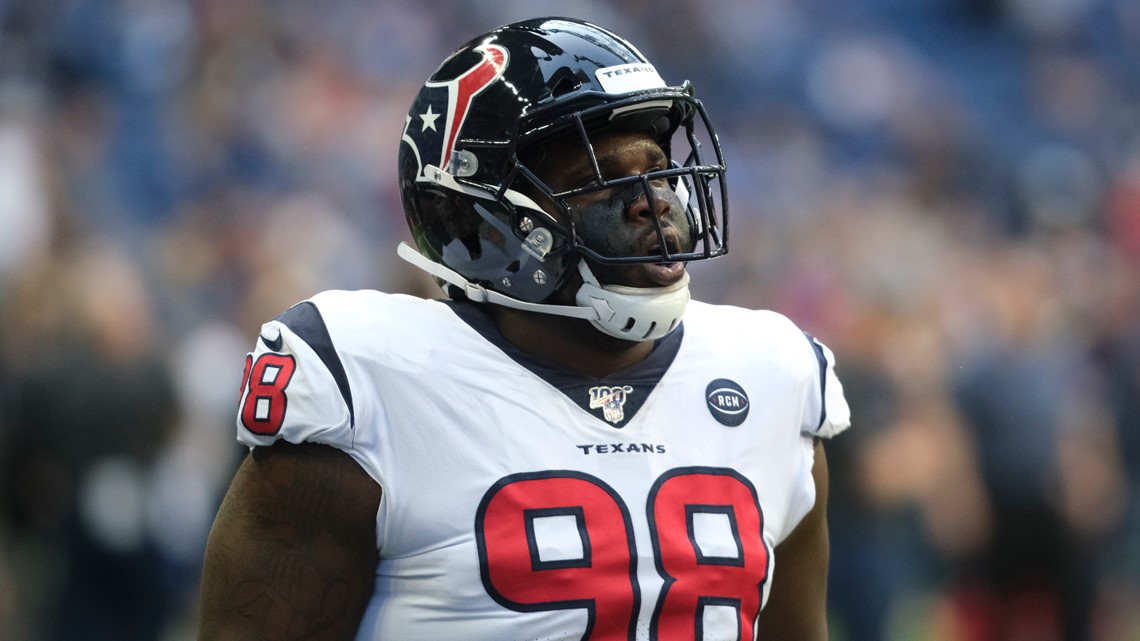 The Broncos are known to be interested in the 6-foot-3, 347-pound run staffer who can also pressure the quarterback. But they're not the only team.
Javon Hargrave, defensive tackle, Steelers
Broncos' offensive line coach Mike Munchak, who for five years held the same role with the Steelers, would have input on the 6-2, 305-pound nose tackle who had a combined 10.5 sacks the past two seasons.
Jordan Phillips, defensive tackle, Bills
He'd be a 3-4 end if the Broncos nab him. He's enormous at 6-6, 341 pounds. The Broncos struggled to block him in a Nov. 24 game in Buffalo last season. After posting a mere 5.5 sacks in his first four seasons with Miami and Buffalo, Phillips broke out for 9.5 sacks last year.
Is he a contract year standout? Or is he just coming into his own?
Michael Brockers, defensive end/tackle, Rams
Former first-round pick has only missed five games in eight seasons. A versatile inside-out player who may have a third-contract discount.
Leonard Williams, defensive lineman, Giants
Another former first-round player, he was a Pro Bowler in his second season with the Jets when the 6-foot-5, 302-pound "Big Cat" had 7.0 sacks. Traded to the Giants in midseason of 2019 and finished with a disappointing 0.5 sacks in 15 games overall.
Shelby Harris/Derek Wolfe, defensive lineman, Broncos
Unlikely either returns but with Elway never say never. The only chance of a return is if one of them finds to have a disappointing market.

Maybe not quite the fit for the Broncos as he started all 74 games at left guard, including the postseason, in his four seasons since he was New England's third-round pick in 2016. The Broncos need is at right guard but Thuney (pronounced (Too-ney) would work if left guard Dalton Risner, who played right tackle in college, can switch to the other side.
Graham Glasgow, G/C, Lions
Like Broncos free-agent Connor McGovern, Glasgow is a center and guard. The difference is McGovern was more right guard and Glasgow has been more of a left guard than right. A four-year starter since he was the Lions' third-round pick in 2016.
Connor McGovern, center-guard, Broncos
The Broncos really like him after he's started 36 of the team's past 37 games at center and right guard. But do they like him enough to pay him $9 million or $10 million or so a year?
Amari Cooper, WR, Cowboys
Had at least 72 catches and 1,005 yards in four of his five seasons for the Raiders and Cowboys. He'd be an ideal speed partner to Courtland Sutton, but Cooper will also be expensive with contract expectations between $15 million and $20 million per year.
Melvin Gordon, RB, Chargers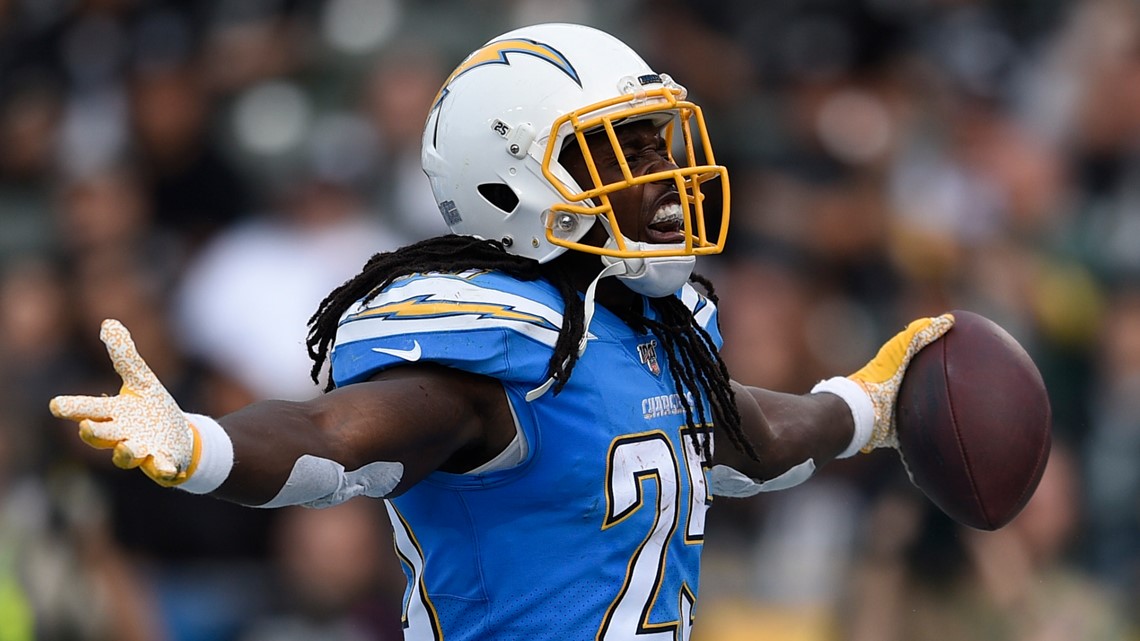 The Broncos are interested in Gordon, who showed All Pro flashes in his five years for the division-rival Chargers, but never quite put it all together. He was beset by fumbles early in his career, then an injury, then a holdout.
But as top-flight rushers go, Gordon is also an elite pass receiver which would pair nicely with incumbent running back Phillip Lindsay. Price tag would be large, though.

Longtime backup has history with Broncos coach Vic Fangio. Knows how to come off the bench and move his team. Would well-complement the young, and relatively inexperienced Lock.
Austin Hooper, TE, Falcons
Had 71 and 75 catches the past two years. And his position coach through the first three years of his four-year career was now Broncos' tight end coach Wade Harman.
Kendall Fuller, CB, Chiefs
One of the league's better slot corners who played roughly 60 percent of the defensive snaps when healthy for the Super Bowl champs. Just turned 25 so he might be pricey.
He's going into this third contract at 29, but he's coming off a four interception-four forced fumble season. Has championship pedigree with 15 playoff games. Starts outside but then moves into the slot – as Chris Harris Jr. did for so many years with the Broncos.
Another solid slot corner. And with the Broncos investing a combined $20 million in 2020 dollars into A.J. Bouye and Bryce Callahan, they need a nice slot corner.
Prince Amukamara, CB, Bears
Played well for Fangio and Broncos' defensive coordinator Ed Donatell in 2017-18 in Chicago. Turns 31 in June. Released more than three weeks ago and while there's been considerable speculation he would wind up with the Broncos, he remains unemployed.
Xavier Rhodes, CB, Vikings
The Broncos were hoping to draft him with No. 28 overall pick in first round of the 2013 draft. But Rhodes went No. 25 to Minnesota and the Broncos took defensive tackle Sylvester Williams.
Broncos had expressed interest in Rhodes off an on in recent years according to a Vikings source. But that was before Rhodes got repeatedly beat by Sutton in a game last November 17 at Minnesota.
Darqueze Dennard, CB, Bengals
A former first-round draft pick who has developed into a nice slot corner, although he's been oft-injured.
Cory Littleton, ILB, Rams
Alexander Johnson is certain to return as one Broncos' starting inside linebacker. Four-year starter Todd Davis had his $500,000 option picked up Friday, but the Broncos may still look to complement Johnson with a rangier-type. Littleton is the most dynamic inside linebacker in free agency, but he also may be too expensive.
Christian Kirksey, ILB, Browns
Missed 23 of 32 games the past two seasons because of injuries, yet he's still drawn enough interest to visit the Raiders, Packers and Bills.
De'Vondre Campbell, ILB, Falcons
A four-year starter who has strong safety-type coverage skills at 6-foot-4, 232.