WESTMINSTER, Colo. — Construction crews have installed 2,500 of the 6,000 blocks of geofoam needed to move repair work forward on US 36, the Colorado Department of Transportation (CDOT) announced in a Friday update.
The eastbound lanes of US 36 between Wadsworth Boulevard and 104th Avenue/Church Ranch Boulevard have been closed since July 12 after a crack on the highway turned into a sinkhole. CDOT reconfigured traffic to allow two lanes of eastbound traffic on the westbound side in that area.
CDOT said it expects to have enough repair work completed to open three lanes of traffic in each direction by October.
Geofoam is a lightweight backfill that has been used effectively in similar situations with settlement.
Construction crews previously completed the rock foundation underneath the eastbound wall of the crumbled highway.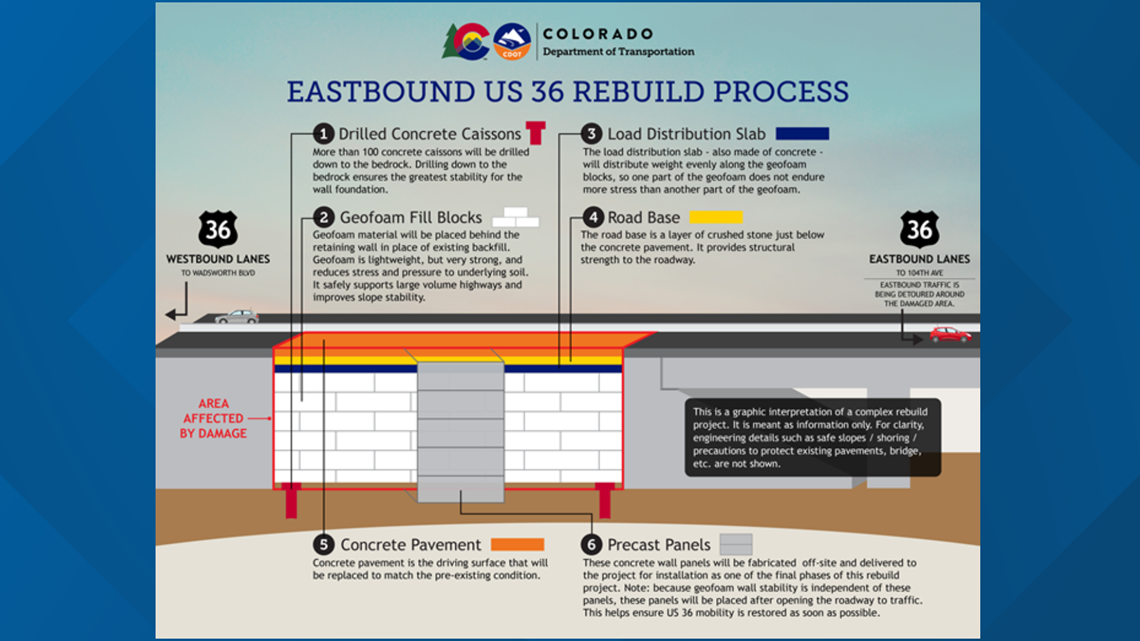 During heavy traffic periods, CDOT recommends the following alternate routes:
Colorado Highway 128 (120th Avenue)
Colorado Highway 7
Colorado Highway 93 from Golden to Boulder
Northwest Parkway (please note, this route is tolled)
WATCH: What's with the foam on U.S. 36?
CDOT will complete additional work on the wall, bike path and a fence, with an estimated completion date of December.
CDOT estimated it will cost $20 million to fix the highway. Kraemer North America is the contractor on the project.