CDOT tweeted around 8 p.m. Sunday that it was implementing a safety closure from Rifle to Dotsero due to flash flood danger in the area.
At around 9:30 p.m., CDOT said the Flash Flood Warning had expired and the highway was back open.
That stretch of highway has been closed several times this summer, most recently Saturday, over flooding-related issues.
Meanwhile, Loveland Pass reopened Sunday afternoon. CDOT said a mudslide late Friday covered the road near Arapahoe Basin. It was originally expected to open Saturday, but CDOT said crews needed more time to clean up the debris and mud flow. During the closure, traffic had to be stopped at the Eisenhower Tunnel each hour while vehicles carrying hazardous materials were escorted through it.
When debris flows on I-70 occurred Thursday, CDOT said Friday, it created a dam in the river on the eastbound side of the highway, and when the water began flowing again, it took the path of least resistance.
That meant water flowed over the bike path and up against the eastbound lanes of the highway. The water was under the lanes and could be undercutting them, but until CDOT gets that water diverted away, there is no way for them to know.
"Until we can get in there and look at it, it is deemed unsafe," said Mike Goolsby, CDOT Region 3 Transportation Director. "That was an unforeseen circumstance that we weren't really looking for. We didn't think we'd be impacted from the stuff across the river."
CDOT said workers brought in special equipment to place sandbags to divert that water away from the interstate lanes so that workers could get in there and take a look at the potential damage and decide how to proceed.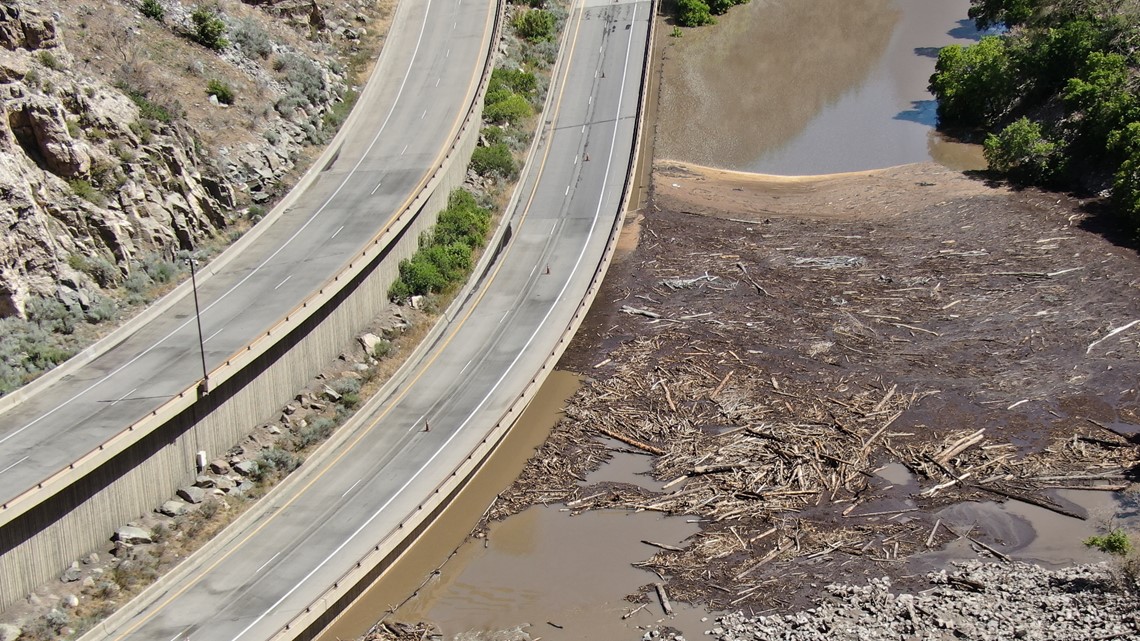 On the westbound lane, CDOT workers were dealing with a pretty significant debris flow that filled a drainage area near Cinnamon Creek.
With the box culvert full of material, floodwaters couldn't drain from the east and westbound lanes. It had to be cleared and drained before floodwaters could be cleared and before crews could clean and reopen either side of the highway.
"One of the issues we're running into is the drain system in the middle of the interstate is plugged," Goolsby said. "So every time we get that drain unplugged, we get more water that inundates it. So until we can that drain unplugged and that material out of there to prevent it from overtopping the road the next time, that's one of the issues."
If there was additional rain, CDOT said, it could significantly overwhelm the box culvert and further delay reopening the interstate.
Officials would not give an estimate Friday on when the highway could fully reopen.
"I'm not going to give you a timeframe because right now I don't know," Goolsby said. "A lot of it is best case scenario that there is not a lot of undercutting and then it's a matter of getting the channel [of water] moved."
The closure was initially from Glenwood Springs to Dotsero, but another closure point was added later at West Rifle.
It marks the ninth mudslide or debris flow-related closure there so far this summer.
"Unfortunately, this is something we're going to have to live with for at least the foreseeable future," Goolsby said.
CDOT partners with the National Weather Service (NWS) and the agency's own internal meteorologists to keep a close eye on forecasts, especially in trouble zones like Glenwood Canyon. Goolsby explained the escalating closure protocols when rain falls over the vulnerable areas.
First, when NWS issues a Flash Flood Watch, CDOT will move crews into staging positions along the canyon.
Glenwood Canyon mudslide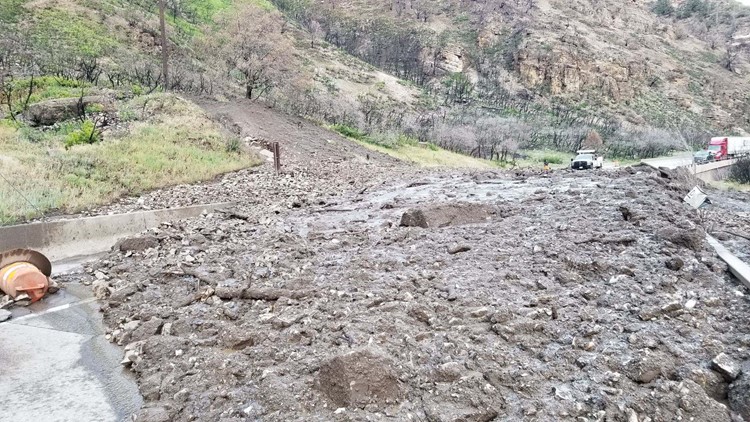 "They go stage at all the closure points – Rifle, Glenwood Springs, New Castle, and Dotsero on the east end of the canyon," he said.
"The 12 to 12 flood watch that went into effect today [Thursday], my folks are there 12 hours, sitting there waiting to close the roads if it goes into a warning."
If the weather situation becomes more concerning, as it did Thursday, becoming a Flash Flood Warning, then CDOT will automatically close the flood-prone stretch of highway.
That closure includes vehicle access, Glenwood Canyon trail access (commonly used by cyclists) and even rest areas.
"When it goes to a Flash Flood Warning, that means it's imminent," Goolsby said.
"The first couple of these [events] that went to Flash Flood Warnings for us – we had about five minutes before something [water or debris] ran."
Five minutes isn't much time, Goolsby said.
In addition to the closure protocols, CDOT and its partners added rain gauges throughout the canyon following last year's fires. That way, Goolsby and his team can measure just how much water it takes to trigger trouble in specific areas.
The Grizzly Creek burn scar is located right near the highway in Glenwood Canyon, and burn scars are especially vulnerable to flash flooding due to the lack of vegetation to absorb moisture. As a result, flood-driven mudslides are common near or even over the interstate.
If detouring, CDOT asked motorists to use the northern alternate route, which adds an extra 2.5 hours of travel time.
"It may not be the best news to travel around Glenwood Canyon but it may be the only option at this point," said Goolsby." We're doing the best we can with the alternate routes but unfortunately, there's not a lot of them to get from one aside to the other."