DENVER — If you like cooler weather, you might want to leave Colorado for a few days. Or rather, for a few weeks.
The National Weather Service in Boulder issued a rare Heat Advisory for Denver and the Front Range for Saturday, warning of temperatures that could exceed 100 degrees.
The Advisory is in effect from 10 a.m. until 8 p.m. on Saturday. It could be extended into Sunday.
A major heat wave starting on Friday could lead to temperatures at or above 100 degrees in Denver, potentially threatening records and elevating statewide fire danger this weekend.
High temperatures in the Denver area will likely peak Saturday and Sunday, with highs around or perhaps topping 100 degrees. Some parts of far eastern Colorado could see high temperatures exceeding 105 degrees in a few localized areas.
Denver's record daily high on Saturday is 98 degrees (set in 2021), while Sunday's is 102 degrees (set in 2016).
The hottest temperature on record in Denver is 105 degrees, though it doesn't appear likely that we'll hit that mark this weekend.
An exceptionally strong area of high pressure will build over Colorado, producing a large area of sinking air that'll spike temperatures and reduce or eliminate rain chances for several days. That area of high pressure will begin to budge east by next Monday.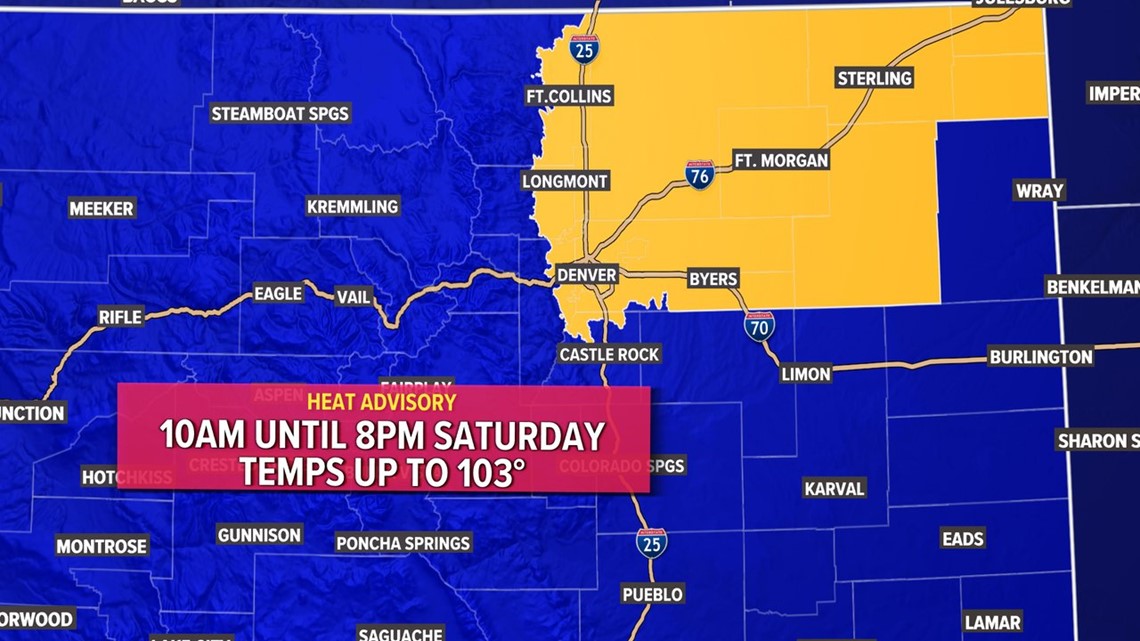 While the heat takes a temporary reprieve on Monday following a weak cold front, computer forecast models indicate the heat could return for next weekend (July 16-17) as well.
It's far too early to say definitively, but if the forecast verifies, this could wind up being one of the hotter months in recent memory for both Denver and much of eastern Colorado.
Denver's average high for the beginning of July is about 88 degrees, making this weekend's heat 10 degrees (or more) above the average for this time of the year.
Air quality alerts are already in effect for Saturday as well, and Saturday will mark the 13th day so far this year with an Air Quality Alert for Denver and the Front Range.
And regardless of how hot exactly temperatures get, prepare for the near-certainty of a sweltering weekend ahead.