DENVER — Denver just saw one of its rainiest months on record, and May was also the city's wettest month in nearly a decade.
With 5.53 inches of precipitation last month, Denver International Airport (DIA) saw its 11th-wettest month in the city's 151-year climatological history. It was the most rain in a month since the September 2013 floods.
It was also Denver's fourth-wettest May on record and the city's rainiest May since 1973.
Nearby weather stations recorded almost identical figures to what DIA saw, with the city's Central Park weather station picking up 5.50 inches of May rainfall and a downtown sensor collecting 5.59 inches.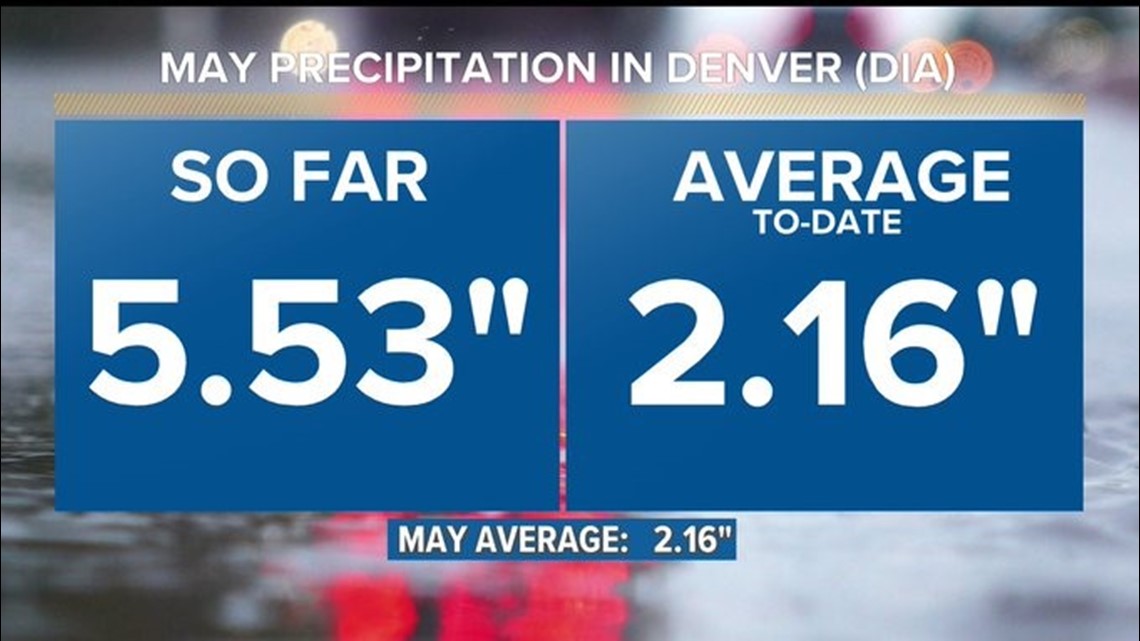 Those figures account for roughly 40% of what Denver typically gets over a full calendar year. It's also well more than double the city's average May rainfall total of 2.16 inches.
On top of that, Denver saw more rain in May (5.53 inches) than the cities of Chicago, Los Angeles, Seattle, Portland, Oregon, New York City and Washington D.C. saw during the month – combined (5.45 inches).
For context, Denver averages slightly over 2 inches of rain in May, while those six cities average a combined 17 inches of May rainfall.
Most of the rain came from an historic and prolonged mid-month rainstorm that dropped a widespread 3 to 5 inches of precipitation. On top of that, regular rounds of showers and thunderstorms over the rest of the month consistently added to the already impressive rainfall amounts.
June looks to start on a similarly soggy note. Showers and storms greeted the Denver area on Thursday afternoon, and it'll stay soggy and unsettled through the upcoming weekend and into the early part of next week, thanks to a slow-moving area of low pressure trudging through the Rockies.