LAKEWOOD, Colo. — While the online rumor mill churns, Jaclyn Martuscello just laughs.
"It's the number one question that our staff gets, that we get from family and friends," Martuscello said, from the patio of her businesses, just a few steps away from Casa Bonita's front door.
"We're in the shadows of the great pink palace," she said. "They are feet away from us – mere feet. We share a wall with them, my office is right next to theirs, and at one point a nail came through the wall!"
She said they opened the brewery seven years ago, back when the complex looked very different and when Casa Bonita had different ownership. The restaurant played no role in their real estate decision, they were just looking for somewhere with room to expand.
Life next door to Casa Bonita was very different back then.
"When we first moved in, it under previous ownership. It was a lot of lines, people asking to use the restroom, a lot of mitigating that at the door," she said. "Then [Casa Bonita] shut down during the pandemic and it was just a ghost town in this corner, it kind of became a little bit of a camp site for transients. It was a bit of a scary place, people didn't want to come in the corner."
But the brewery managed to stay afloat during those difficult years, even grow.
Then, new ownership bought Casa Bonita. Suddenly, things shifted – dramatically.
"A lot of people think construction just started, but we've seen it everyday, literally, from 7 a.m. [from] when we get here, something going on, things changing," she said. "People think it just started a few weeks ago, this has been going on for years."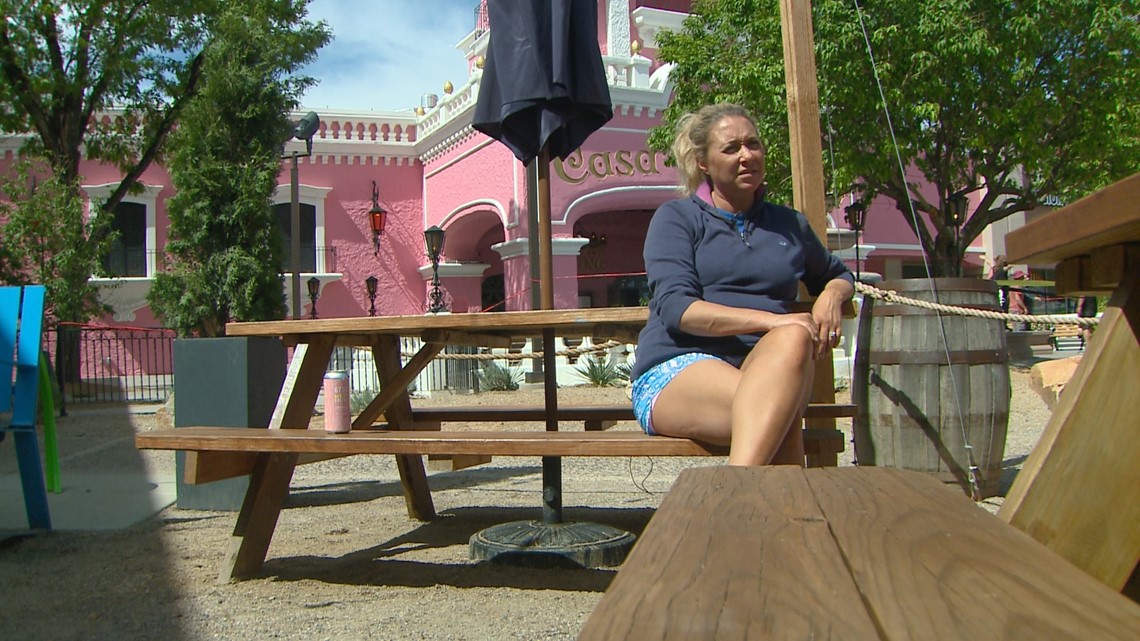 And as Casa Bonita's public opening date creeps closer, the WestFax team is getting more than just questions – they're getting more customers. Public interest over Casa Bonita draws out the curious, the fanatic, even the famous. And many of those next-door visitors often find themselves thirsty.
"Business was already growing, but we're certainly seeing an impact, a positive one, from them opening – or not opening – soon," she said, with a smile.
Martuscello holds a few secrets about Casa Bonita's plans, but good luck getting her to spill.
"I picked my son up from school today and everyone was like – biggest question, Casa Bonita? And I'm like – I have nothing new to report!"
But the two neighboring businesses seem like to each other.

WestFax made a special beer in honor of Casa Bonita, a Mexican Lager they call "Line Starts Here."
"It has little stick figures waiting in line, standing near a fountain," Martuscello said. "We want to start here because we want them to drink the beer here before they go in!"
She said the restaurant has been in regular communication with her team about the construction disruptions, and planning for the future.
"They met with us a few times to talk about expectations, how they would mitigate parking and lines and bathroom – that's a real thing," she said. "They've come up with plans to mitigate that. They're trying to look out for us, as well as everybody else in the complex. They had multiple meetings to make sure to let us know they're not going to just open the doors and let people come flooding in."
And during all the recent construction, the brewery also got a revamped patio, on Casa Bonita's dime.
"They offered to redo and scrape our patio so we could get more seating out here, so it would offset the fence going up," Martuscello said. "They helped us with the patio in exchange for a little lamppost we had in the middle on a hump of grass."
That bigger patio – has been more than worth it. With the extra foot traffic, it's a good spot to people watch.
"And we just happen to have the best seat in the house for that," she said.