DENVER — Denver District Attorney Beth McCann held a community meeting on Wednesday where she discussed her decision to not charge the officer involved in the shooting death of a man on May 1.
McCann announced last week that the Denver officer who shot and killed William Debose in early May was legally justified to use deadly force and will not be charged.
McCann, who has been in office for three years, said she's made a commitment to hold the community meetings after all officer-involved shootings so anyone can ask questions.
Denver Police said Debose, 21, pulled out a weapon while officers were chasing him following an attempted traffic stop. Police said a loaded 9mm handgun was found near Debose after he was shot.
McCann said after reviewing the evidence, she believes the officer involved acted in self-defense during the shooting, which lasted less than 10 seconds in the 3200 block of West Colfax Avenue in Denver.
>> Watch the full community conversation below
During the community meeting, McCann shared a presentation of what happened in the incident, including images from police-warn body cameras and helicopter footage. She also discussed how she goes about her decision to file criminal charges.
McCann explained that after an officer-involved shooting in her district, she is called to the scene. She said the officers involved are immediately separated from any other officers and each other, put in separate cars and taken to police headquarters for interviews. Their guns and body cameras are taken away immediately.
When looking at these cases, McCann said she reviews all the evidence, interviews and notes, and consults with others in her office on whether criminal charges can and should be filed against the officer involved. She also looks at Colorado laws on self-defense, specifically for law enforcement.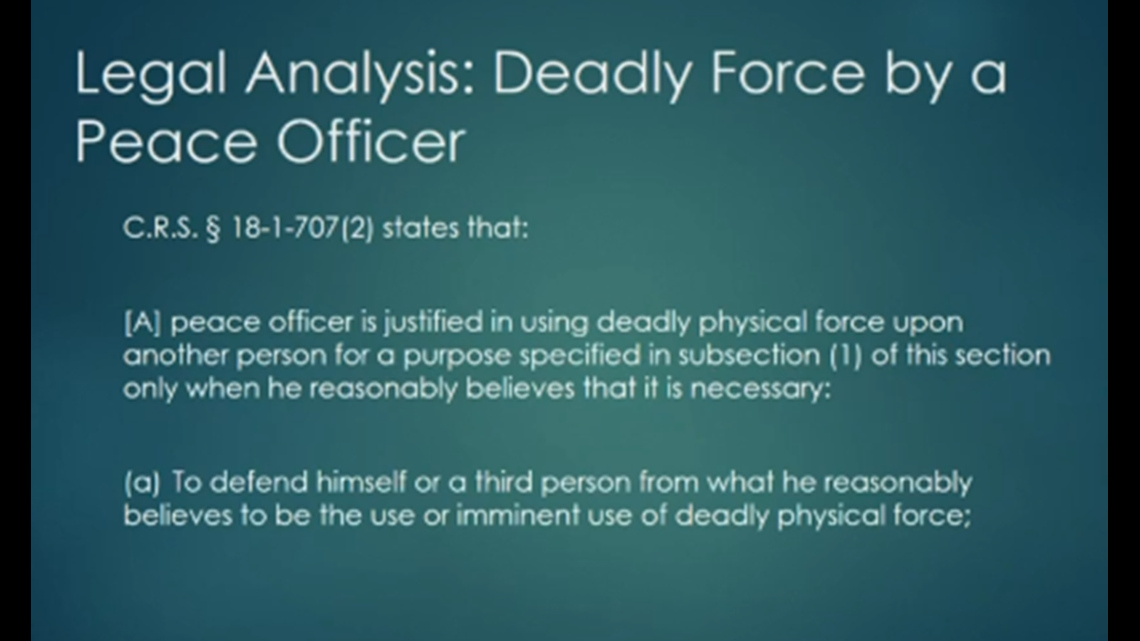 McCann said because Debose took off running and the officer took off after him to keep Debose from getting back in the car, he wasn't anticipating using a gun or deadly force. But McCann said once the officer saw the movement and stance of Debose reaching for a gun, the officer was justified under the law in doing what he did.
The body camera footage of the incident was released and can be seen below.
(WARNING: The content in the video is extremely graphic and may be disturbing to viewers.)
McCann took questions from the community after the presentation where she addressed the trajectory of the gunshots, history of the officer involved and whether Debose was legally allowed to have a gun.
She explained the officer had not been involved in any other shootings but may have witnessed one. She said Debose was not shot in the back and stated that whether Dubose was legally allowed to have a gun was not important in the case.
When asked if she has or is willing to prosecute an officer, McCann said yes absolutely and that she has done so for a few cases of assault.
McCann was also asked if she's doing anything in a broader sense about racism. She said she's focused on reducing mass incarceration, bail reform and purchased the book, "The New Jim Crow" for everyone in her office.
In her announcement earlier this month on the lack of charges, McCann said she had asked to meet with family members of Debose before making her decision public, but said they declined the invitation.
"The horrific killing of George Floyd at the hands of police officers has spurred increased calls for justice and close examination of law enforcement and systemic racism in our criminal justice system," McCann said. "I support these efforts and will hold police officers accountable for any criminal actions as I have done in the past and am doing currently (we have a pending case against a Lakewood police officer.) I have and will continue to support Black Lives Matter, and I recognize the immediate need to examine police practices as well as prosecution and judicial practices.
"However, in this case, Corporal Antonson had a reasonable belief that he was defending himself from the imminent use of deadly physical force, and Colorado law allows peace officers to use deadly physical force under these circumstances."