DENVER — "Something went wrong," the Denver Police Department acknowledged Wednesday in response to a shooting by officers that injured six bystanders in LoDo over the weekend.
"It's certainly concerning and demands a review from the police department from a tactics standpoint, from a policy standpoint," DPD Lt. Matt Clark said. "Did something go wrong? Yes, six people that shouldn't have gotten injured that night got injured."
The incident Clark's referring to happened near 20th and Larimer Streets in LoDo in the early morning hours of July 17. Three Denver officers fired shots at 21-year-old Jordan Waddy, who they said was armed with a gun.
In an arrest affidavit, police said the officers saw an altercation beginning between three people in front of the Larimer Beer Hall. One of the men, later identified as Waddy, was the "aggressor" in the incident and was observed with a gun, Clark said.
Waddy began to grab at his waistband and lift up his hoodie as though he had a handgun, according to the affidavit.
When officers approached, he began to walk away, but when he saw more officers coming from the other direction, he turned and walked back onto the sidewalk.
Waddy then pointed a gun at two officers, who each fired at him, Clark said on Wednesday. One officer fired four rounds and the other fired twice, he said.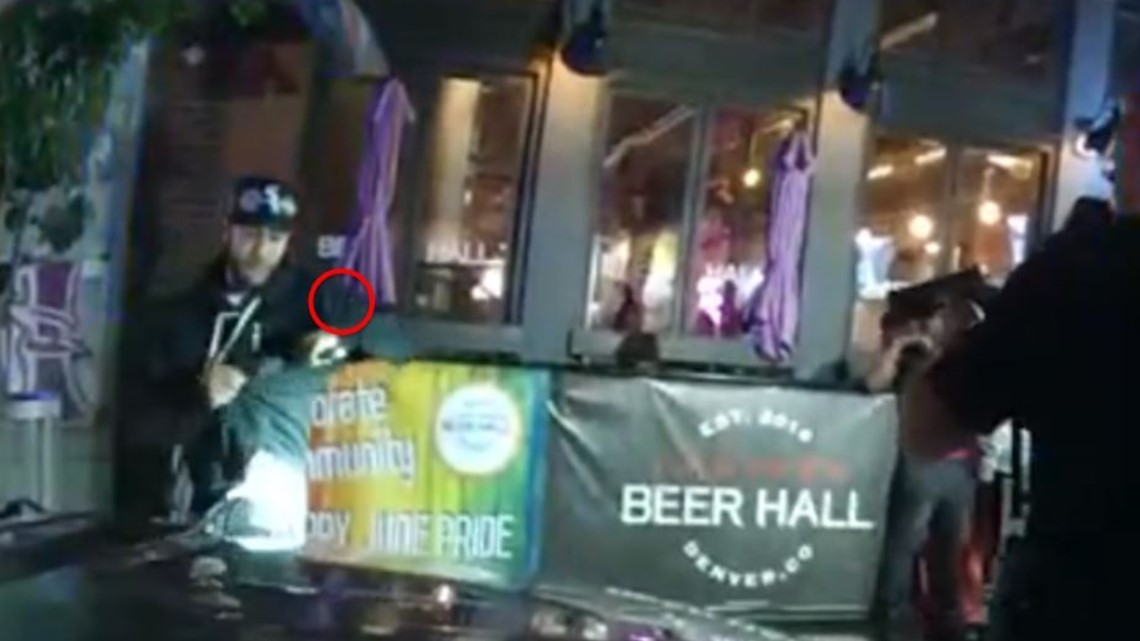 A third officer saw that Waddy had a gun pointed at fellow officers and fired a single shot in an effort to protect them, according to Clark. A total of seven rounds were fired.
Waddy was struck multiple times and taken to the hospital for treatment. He remains there but faces charges of felony menacing and possession of a weapon by a previous offender.
Waddy did not fire his weapon, according to DPD, who said a loaded handgun was recovered at the scene. Clark also said officers did not have time to announce their intention to fire their weapons.
Ed Obayashi is the deputy sheriff and legal advisor for the Plumas County Sheriff's Office in California, as well as the official Use of Force training advisor for California Police Training Managers. He also serves as an expert witness on the topic.
"Fundamentally, if the officer's reasonable belief that their lives or the lives of others are in immediate danger, then they have every right to defend themselves accordingly, including the use of deadly force," Obayashi said.
Police initially said five other people were injured in the incident. On Wednesday, Clark said a sixth person came forward on Tuesday to report that he suffered a minor injury to his chest in the incident.
Clark said he "was not able to conclude specifically" what struck the victims and caused their injuries but did acknowledge some had "through and through" injuries.
"The injuries range from superficial cuts, to possible graze wounds, to serious arm, shoulder and leg injuries," Clark said.
Man with a serious arm injury
Woman with a serious leg injury
Woman with a serious arm and shoulder injury
Woman with graze wound to her leg
Man with graze wound to his foot
Man with burn-type injury to his chest
All victims have been released from the hospital, DPD said.
Bailey Alexander has wounds to her arm and shoulder area.
"I would definitely like some answers. How this occurred, why did those officers shoot so quickly into a crowd that large?" she said.
Yekalo Weldehiwet suffered a serious arm injury and still had his arm in a sling when he spoke with 9NEWS Wednesday morning.
"I never thought I'd be in this situation," he said. "Throughout my life I've followed the rules, tried to be as proper a citizen as I can, and for this to happen is just unbelievable."
Alexander and Weldehiwet both told 9NEWS they didn't learn they were hit by police bullets until they saw news reports.
The three officers who fired shots were placed on administrative leave, per standard practice. They were wearing body cameras, and Clark said those videos would be released once the Denver District Attorney's Office completes its investigation into the shooting.
Denver Mayor Michael Hanock on Wednesday released a statement calling for "patience" in the wake of three shootings by Denver police officers within a week.
"I understand there are still a lot of questions and that people are looking for more information regarding a series of incidents over the past week," the mayor's statement said. "Any time our officers deploy their weapons in the line of duty, there are comprehensive investigations that must follow long-established legal procedures. I am asking our residents for patience as this process takes place and as we work to provide answers. I am receiving regular briefings from the Department of Safety and can assure you this process is well underway."
The first shooting happened July 13 in the area of West 7th Avenue and Federal Boulevard. Officers shot and killed a man after he fired at them from a car, DPD said.
The second shooting happened at a townhouse in the Globeville neighborhood Friday. Officers shot and killed a man who was holding a knife to a woman's throat as she bled, DPD said. The woman was taken to the hospital and has since been released.