DENVER — Ma Kaing, a board member of the East Colfax Neighborhood Association and the "mom" of her apartment building, was killed in a shooting outside of that building Friday night.
Sharon Knight, the president and CEO of Hope Communities, told 9NEWS the shooting happened in front of the Hidden Brook Apartments on Xenia Street, where Kaing, 42, lived for the last 15 years.
"Ma and her two children were coming back from her restaurant and unloading groceries and a stray bullet from a public park, New Freedom Park, came across the street and hit her and eventually killed her," Knight said. "She was a big part of our community. She did so much."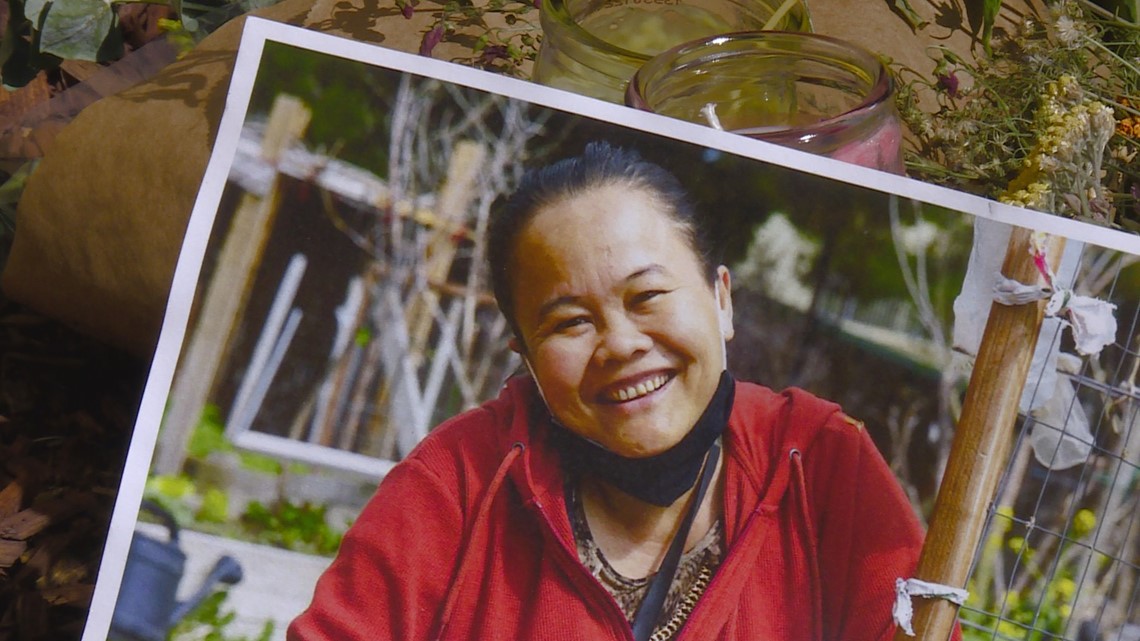 Described as the "mom" of her apartment building, she was the person who knocked on everyone's door during the pandemic just to make sure they were taken care of. Her friend Helen Lowie described her as funny and kind.
"She's amazing, " Lowie said of her friend of 10 years. "I don't know why it occurred. Everyone's crying. All the people are crying."
Police are offering a $2,000 reward for any information that leads to an arrest, but residents at Hidden Brook have their own questions. Knight said residents told her it took at least 40 minutes for first responders to arrive.
"Ma's son was holding her in his arms. She was still breathing," Knight said. "He called five times, and he said 911 hung up on him. Then several neighbors have told me the same thing."
Due to the building's proximity to Aurora, some of the 911 calls went to their dispatch. Aurora 911 said they received four calls between 11:27 p.m. and 11:31 p.m. and they said they transferred them to Denver 911 and stayed on the line while they did. Officials said they did not hang up on anyone, but at least one caller hung up on them.
The Denver Department of Public Safety said DPD arrived on scene at 11:34 p.m., five minutes after being dispatched, and EMS arrived a minute after. They say due to the influx in calls, 911 became inundated and some callers did have to wait for a 911 call taker to become available.
Knight said she asked DPD for more patrols in the area and she hopes they listen for safety's sake.
"Our vision at Hope is to provide a safe place for everyone in the community to live and get the resources they need, and to not be able to control the neighborhood safety is just, it's just devastating," Knight said. "We have to get resolution. We have to do better for our community."
A public visitation is being held for her from 5 p.m. to 8 p.m. Wednesday evening at the Harris Funeral Home on 16th Avenue.
DPD released the following statement in regards to the community's want for more patrol in the area:
"The area of E. 13th Ave. and N. Xenia St. is one of the five areas in Denver identified last year through 2020 crime data as a violent crime hotspot.
"To address the higher prevalence of violent crime in this area, the Denver Police Department is using a collaborative crime prevention strategy combining precision enforcement/patrols to prevent crimes and quickly respond/investigate when violent crime occurs, while partnering with other city agencies and community groups to provide outreach and services in support of residents. DPD believes we can best prevent crime by working in collaboration with residents.
Anyone with information is asked to call Crime Stoppers at 720-913-7867 or visit metrodenvercrimestoppers.com. Tipsters can remain anonymous and may be eligible for a reward of up to $2,000.
Metro Denver Crime Stoppers works by assigning a code to people who anonymously submit a tip. Information is shared with law enforcement, and Crime Stoppers is notified at the conclusion of the investigation.
From there, an awards committee reviews the information provided and, if the information leads to an arrest, the tipster will be notified. Rewards can be collected using the code numbers received when the tip was originally submitted.