DENVER — You can tell the guys who played for Sean Payton in New Orleans by the way they talk.
They pick up some of the catchy vernacular the coach uses to begin his responses or statements with the words "Look" and "Listen." Words that make the listener pay attention. And then Payton will carry on expressing his thought.
Wil Lutz is the Broncos' new place-kicker after he was acquired Tuesday in a trade from New Orleans. Lutz was with Payton for six years in New Orleans, kicked for him for five. And now it will be Lutz and Payton one more time in Denver.
"Look, for Sean to come over and get me like he did, it's an honor,'' Lutz said Wednesday following his little-sleep, first practice at Broncos headquarters. "It's great to feel appreciated, great to be wanted."
Despite his past success, Lutz was in a kicker competition during Saints training camp with Blake Grupe, a rookie from Notre Dame. Both kicked well. Head coach Dennis Allen picked Grupe. Perhaps working against Lutz was that he missed the 2021 season because of a core muscle injury that took two surgeries to correct, and he followed by having the league's second-worst field goal percentage of 74.2 in 2022.
"Felt like I had a great camp, but when you don't play and then you have a down year you put the decision in someone else's hands,'' Lutz said. "And that's the worst thing about this industry is you want to be able to control your own destiny. When you have a down year that's how it works. So put the decision in their hands. It didn't go my way. But I get a fresh start. There's a silver lining to everything and I'm super excited to be here. I'd be lying if I said this wasn't one of the spots I was hoping I'd land.''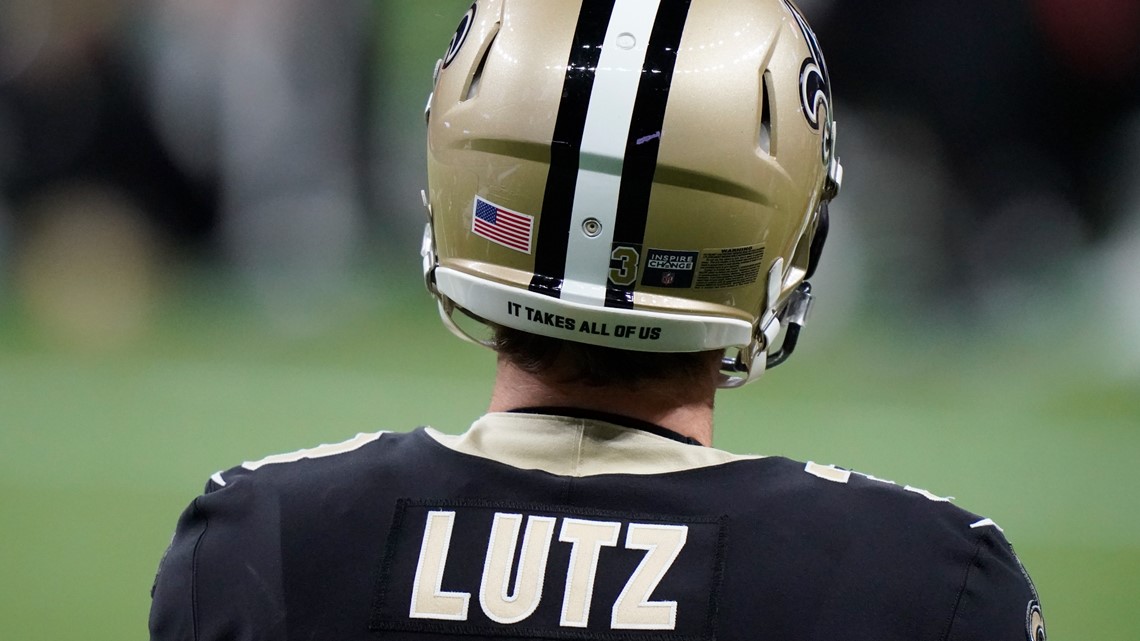 Lutz was one of the NFL's best kickers in the three-year span from 2017-19, when he made a combined 89.2% of his field goals – a career-best 93.3% in 2018 – and converted 96.7% of his 33-yard extra points. He credits Payton – or the fear of Payton – for those good years.
"Look, coach, he tries to get the best out of everyone,'' Lutz said. "I truly feel like my best years were with him because I was kind of scared to let him down. I think that's how a leader is.''
The down years were more about the injury in one (2021), and inability to adjust to all kinds of factors in the other (2022). Like performing before a crowd.
"But look, 2022, no excuses. I didn't have a good year,'' Lutz said. "It's all on me. Mentally I didn't feel like I was in the right space. Kind of felt like a rookie again after missing a year. I didn't play in front of fans in 2020. Didn't play in 2021. So 2022 Week 1 was the first time in front of fans in [three] years. So it was very eye opening. I think I didn't handle it the right way.
"So I really spent the offseason working with mentals and kind of getting back to where I was before."
He bounced back with a good camp and preseason this summer, so whatever his issues, he and Payton believe he's overcome them. Payton cut the Broncos' longtime kicker Brandon McManus prior to OTAs, then went through Elliott Fry and Brett Maher before deciding he wanted to go forward with the guy he has long trusted.
"Look, we knew the battle that was going on there,'' Payton said. "I think there were four or five (teams) who had two kickers. Aside from just looking at the local news—there is someone there who is charting every kick—we knew that he was having a really good camp and it was a tough decision (for the Saints). That was one-of-four we were paying attention to."