It took way longer than expected but Dalton Risner, the Wiggins' raised starting left guard the previous four seasons for his home state Denver Broncos, has finally found a team as a free agent.
Risner agreed to terms with the Minnesota Vikings on a one-year, $4 million deal with $2.25 million guaranteed, according to a source. Risner confirmed in an interview with 9NEWS he's flying tonight to Minneapolis, where he will be reunited with his former offensive line coach Chris Kuper.
Yes, there were some anxious moments. But thanks to the patience of his agent Andrew Kabat and himself and those close to him, Risner's wait as an unrestricted free agent is over.
"It was tough,'' Risner said. "This past year of my life for family, football, personal, the whole deal was a storm A really tough storm. One thing I came out of that storm knowing is my roots are deep in my faith. My wife (Whitney) and I are standing strong with our chins held high. We believe in God's plan.
"I love this game of football. Long-story short it was tough. But I'm so grateful for this opportunity and this door that the Lord opened for it. And I'm going to make the most of it.''
After four years with the Broncos in which he missed just four games, Risner was considered among the top three left guards in free agency when the market opened in March. Baltimore's Ben Powers got his $13 million a year deal with the Broncos as Risner's replacement and then it fell off to Isaac Seumalo at $8 million per with the Steelers.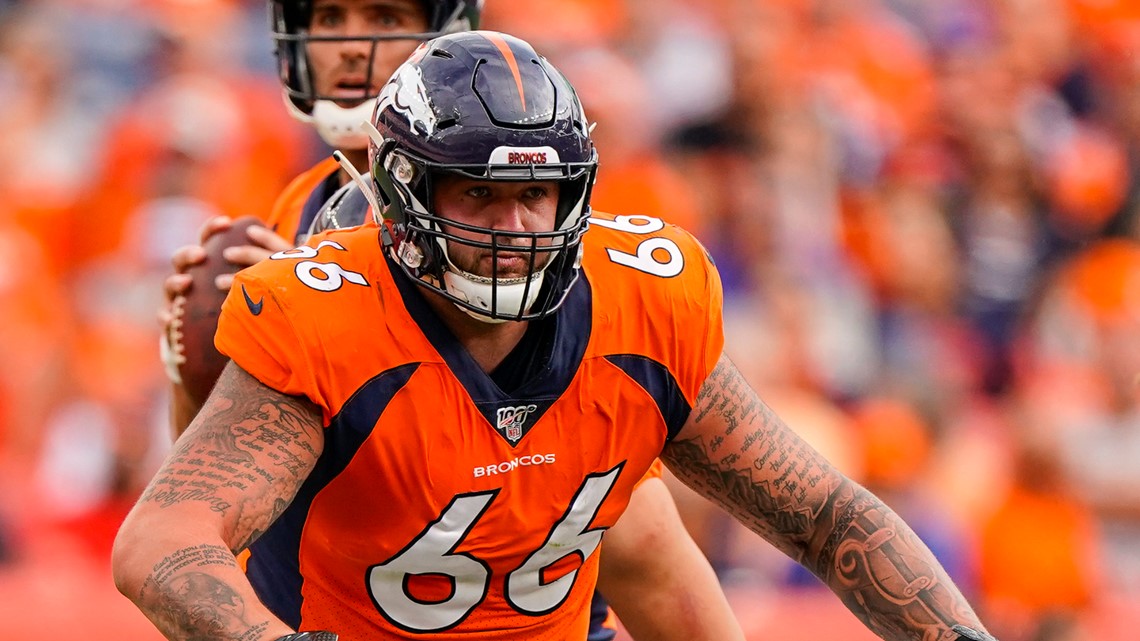 "It's fair to say this wasn't the best market for offensive linemen, for guards,'' Risner said. "But one thing I'm proud of is I made sure to find the right deal with the right team with the right coaches. I love coach Kuper. I love coach (Kevin) O'Connell. I went on a visit there and we started our relationship there.
"In anything in life you could look back and say coulda, shoulda, woulda. We can do that for every facet of our life. But as I look back on it I have no regrets. I know the player I am. I've been doubted before. I'm grateful for the Vikings for believing in me and giving me this opportunity and I'm going there to take the most of it."
Risner says he is in top physical shape thanks to sports performance trainer Loren Landow, who returned to his Denver-area private practice after serving five seasons as the Broncos' strength and conditioning coach, and Duke Manyweather, an offensive line specialist trainer in the Dallas area.
"Hats off to Loren Landow, that dude is spectacular,'' Risner said. "Obviously I haven't been in full pads and jarring and hitting guys. I'm getting on a flight tonight. I'll be in Minneapolis tomorrow morning and I'll be ready to go and see how things go. Drink water through a firehose for a few days and this is going to be one day at a time type of deal.''
Risner's free-agent wait went on for so long, he was able to watch the Broncos' first two games as a TV viewer.
"Yes, I've been watching,'' he said. "I have mixed feelings about the situation but there's a lot of guys on that team that I love. There's a lot of things about that organization that I'm grateful for. I want them to succeed. There's a lot of people in Denver I love and I would never wish anything badly."
The Broncos host the Vikings on Nov. 19.