ENGLEWOOD, Colo. — It can be argued nothing is more overrated in today's NFL than the running game.
The Chicago Bears finished No. 1 in rushing by a wide margin last year yet also posted the league's worst record at 3-14. The Kansas City Chiefs only recorded the 20th-ranked rushing offense, yet tied for the best record at 14-3 and went on to win the Super Bowl. Running game? Andy Reid and Patrick Mahomes II don't need no stinking running game.
The Broncos offer no great evidence on the virtues of running the ball. In their active skid of six consecutive losing seasons their average rank in team rushing was 15th. They won Super Bowl 50 in 2015 with an offense that ranked 17th in rushing.
The Broncos got back-to-back, 1,000-yard rushing seasons from Phillip Lindsay in 2018-19 and finished 6-10 and 7-9. They got 900-yard rushing seasons from two backs, Melvin Gordon II and Javonte Williams, in 2021 and finished 7-10.
The NFL is a passing league. There are roughing-the-passer penalties for landing wrong. There are pass-interference and defensive holding penalties called on fourth and long. Pass interference is a spot foul. Fourth and 22? Chuck it 30 and wait for the flag.
Yet, for all this, new Broncos' head coach Sean Payton has sent signals he wants to help the struggling quarterback he inherited, Russell Wilson, by committing to the running game. Big Ben Powers and Long Tall Mike McGlinchey were added to the offensive line. The two tight ends brought in this offseason, Chris Manhertz and Adam Trautman, are of the blocking nature. New running back Samaje Perine is 240 pounds.
The plan: Run the ball as much as possible and have Russell Wilson pass as little as possible. Maybe it will bring a more efficient and impactful passing game for Wilson. And maybe the Broncos can finish better than 19th in the league in scoring for the first time since 2014.
Here's a look at the Broncos' running back position heading into the 2023 season: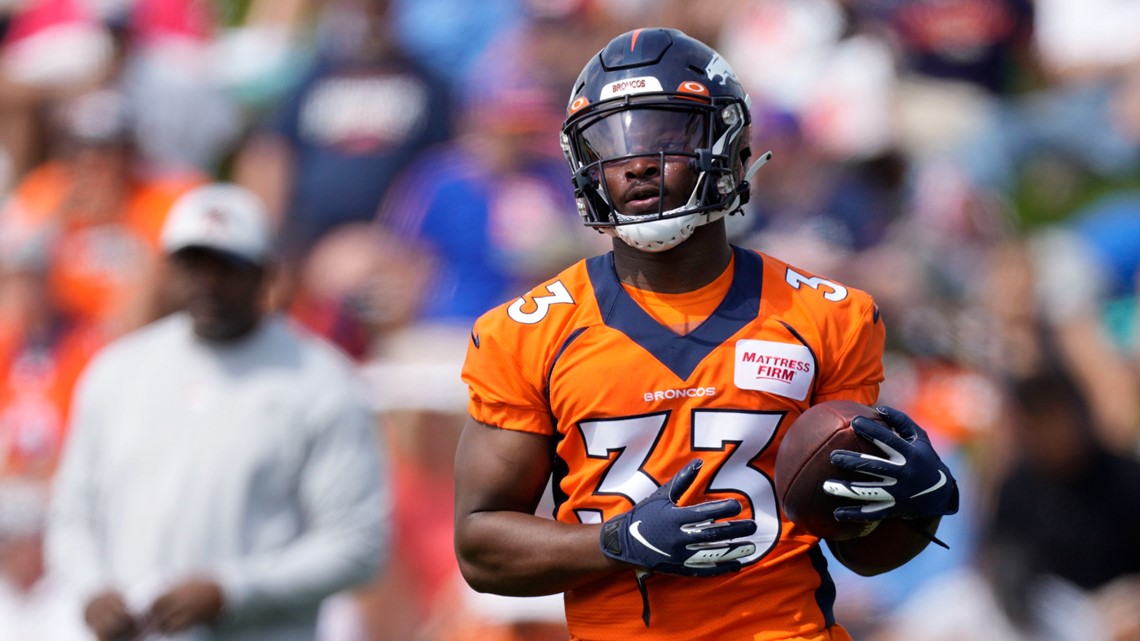 Starter
You heard Sean Payton following the rookie minicamp practice Saturday. First, he referred to Javonte as the starter. Then he said Williams is recovering so well from the ACL surgery he had last October that he should be ready by late July for the start of camp.
If so, Williams would return 9 ½ months since ACL surgery. Adrian Peterson famously returned 8 months after his ACL surgery late in the 2011 season and returned in 2012 to play in all 16 games, rush for 2,097 yards and edge Broncos' quarterback Peyton Manning for the league's MVP award. It can be done.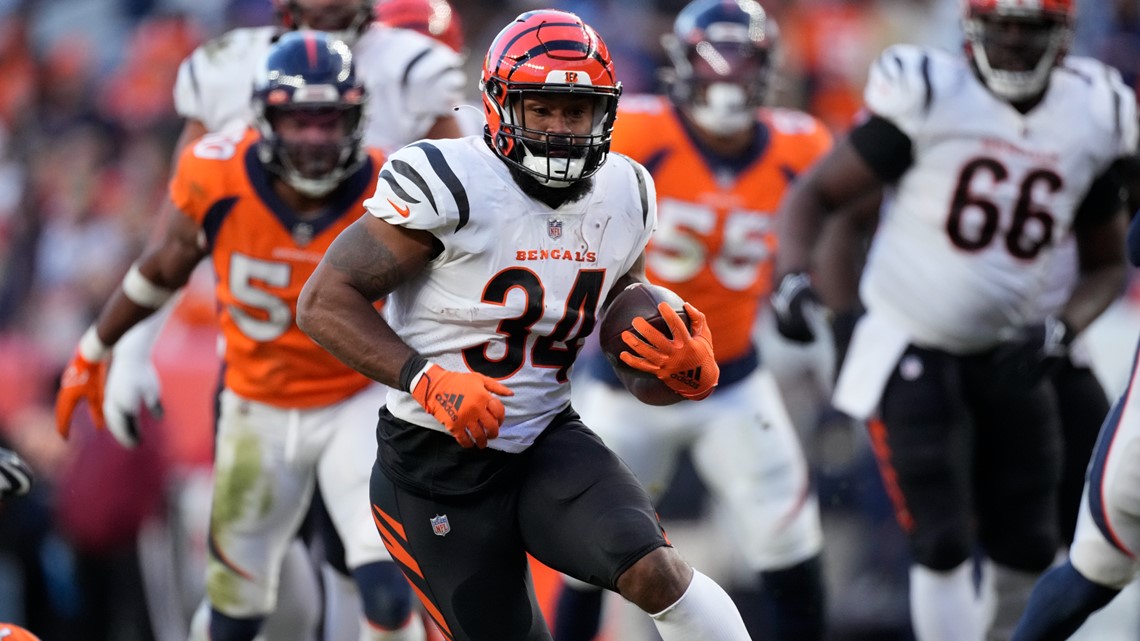 No. 2
In mid-November 2014, Wisconsin's Melvin Gordon rushed for 408 yards against Nebraska to set the NCAA's single-game rushing record. One week later, Oklahoma's Samaje Perine took the record away by rushing for 427 yards against Kansas.
Gordon would have been a good running back in his 2 ½ seasons in Denver if not for fumble problems – he dropped the ball 12 times, losing 9. Which is a bit like saying Scott Norwood had a good Super Bowl if not for one kick.
Perine's fumble totals the past three seasons with the Bengals: 0. He is a 240-pound back whom Payton loves for his versatility. Perine, 27, compiled a career-most 95 carries, 394 yards, 38 catches and 6 combined touchdowns last year for the Bengals.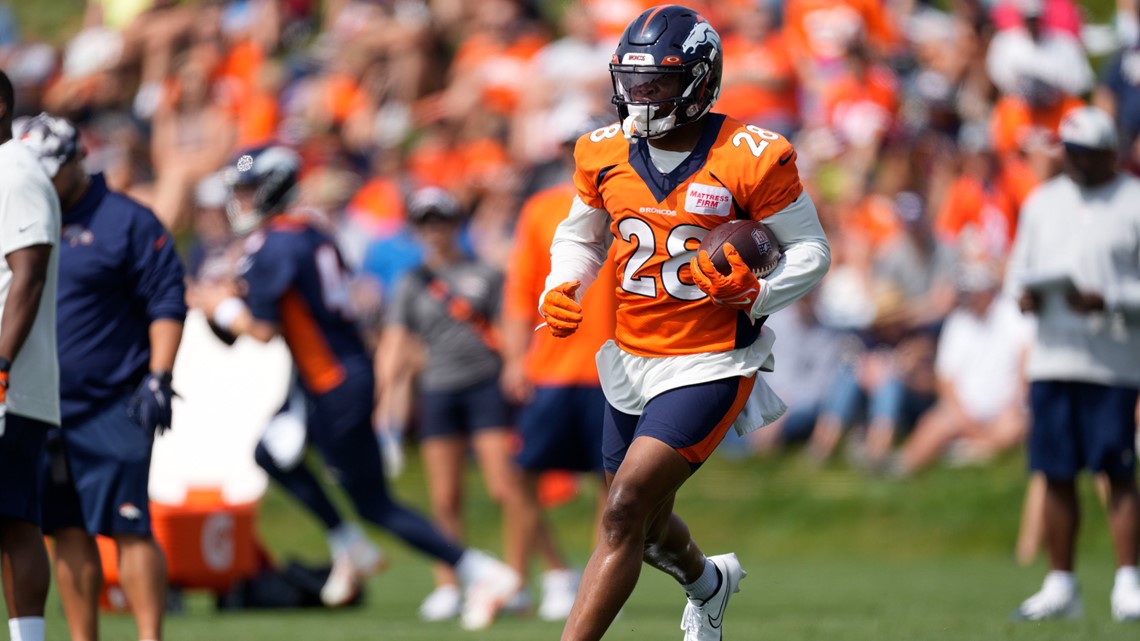 Others
Tony Jones Jr., Tyler Badie, Jaleel McLaughlin, Damarea Crockett, Emanuel Wilson
Jones has been a No. 3 back through his first four seasons. He signed with the Broncos for the one-year minimum of $940,000 with nothing guaranteed so he will need a strong camp and preseason to make the 53-man roster.
The quick and shifty 5-8 Badie and 5-7 McLaughlin would present a better complement to power backs Williams and Perine.
Badie was a sixth-round rookie for Baltimore last season until the Broncos signed him off the Ravens' practice squad. He got a chance to make one play in the Broncos' final game against the Chargers and he made it, turning a Wilson dump off into a 24-yard, catch-and-run touchdown down the left sideline.
McLaughlin played five years in college – for Division II Notre Dame College in 2018-19 and Division I Subdivision Youngstown State from 2020-22 – and finished with the NCAA All Division record 8,166 rushing yards and 78 touchdowns. He also had 66 catches for 643 yards and 6 more touchdowns. Yet he went undrafted before signing with the Broncos. He appeared to get significant reps during the rookie minicamp practice Saturday so he's getting a look.
Crockett was the Broncos' No. 3 back in 2021 but suffered an ACL injury early in training camp last year and missed the entire season. The 6-foot-1, 220-pound Wilson rushed for 1,252 yards and 15 touchdowns last season at Fort Valley State.
Fullback
Not a ballcarrier – he has just 28 for 62 yards in 8 NFL seasons – or a receiver – he has just 18 career catches for 123 yards. But he's a terrific lead blocker and an outstanding special teams player.

Gone but not forgotten
Latavius Murray, Melvin Gordon III
The ageless Murray didn't join the Broncos until one month into the regular season last season, yet still finished as their leading rusher with 703 yards and 5 touchdowns. Even though he had previously played for Payton in New Orleans, the Broncos opted to go with the younger Perine. Murray, 33, signed a one-year deal with the Bills.
Gordon is the fourth-leading rusher among active players with 6,462 yards but he is now 30 and after finishing up last season on the Chiefs' practice squad, he is currently unemployed.
On the way up
The Broncos liked him entering the 2021 draft before the Ravens nabbed him in the sixth round. His first NFL touch for a 24-yard touchdown – and Williams and Perine being power backs – makes him a nice fit. If he gets a chance.
Key to 2023
Everyone saw how special he was as a rookie. He doesn't avoid tacklers – he carries them. But how will such a physical, contact back return from a torn ACL? Perine may be able to fill in as a No. 1 back for a month or so but he hasn't done it, yet.