DENVER — Wednesday afternoon, the kitchen at Bruto in Denver was buzzing ahead of dinner service. There were all the usual preparations for the 18-seat, chef's counter restaurant. But this day felt different.
"We are sitting at the Michelin star restaurant, Bruto," said Executive Chef, Michael Diaz De Leon with a laugh. "Feels good. Feels really good."
"It's been a whirlwind of events, all really good. I feel like I'm just riding this high and it just won't come down."
Many other restaurants were also recognized for other Michelin-based culinary accomplishments, too.
In addition to the Michelin star, Bruto was also awarded a Green Star, recognizing the restaurant's sustainable practices. The restaurant is rooted in Mexican fare, honoring De Leon's roots.
"We honor the chilis, the corn, a lot of traditional aspects of Mexican culture. We stray into Latin America, Colorado cuisine, influences of Japan and around the world."
Even though many of the restaurants, their chefs and their staff have received numerous previous awards, a nod from Michelin can be a gamechanger for a business.
"We are at something, like, 275 reservations in last 24 hours," De Leon said. "The restaurant industry is not easy. Sometimes a lot of us don't make a lot of money. We struggle. This just gives us some job security for the foreseeable future. So we're excited."

"Our sales went up 74% from the week prior to the week after the award," said Natascha Hess, owner and chef at The Ginger Pig in Denver. Her restaurant was named a Bib Gourmand restaurant from Michelin in August, which recognizes businesses offering "a meal of good quality at a good value," according to the guide.
"For us that was a real challenge to make that much food, to keep up. To see my whole team step up and be ready for this. We've been training for years. It's been amazing to handle that kind of increase and excitement," Hess said.
Hess first opened The Ginger Pig as a food truck, specializing in Asian street food. She was inspired by her years studying Chinese in college, and living abroad with a host-family in China for several summers.
"I fell in love with them, cooking with them. They're right here on the wall next to me every day," she said, pointing to a photo of her friends-turned-family hanging on the wall of her restaurant. Hess moved from food truck to brick-and-mortar restaurant in 2020.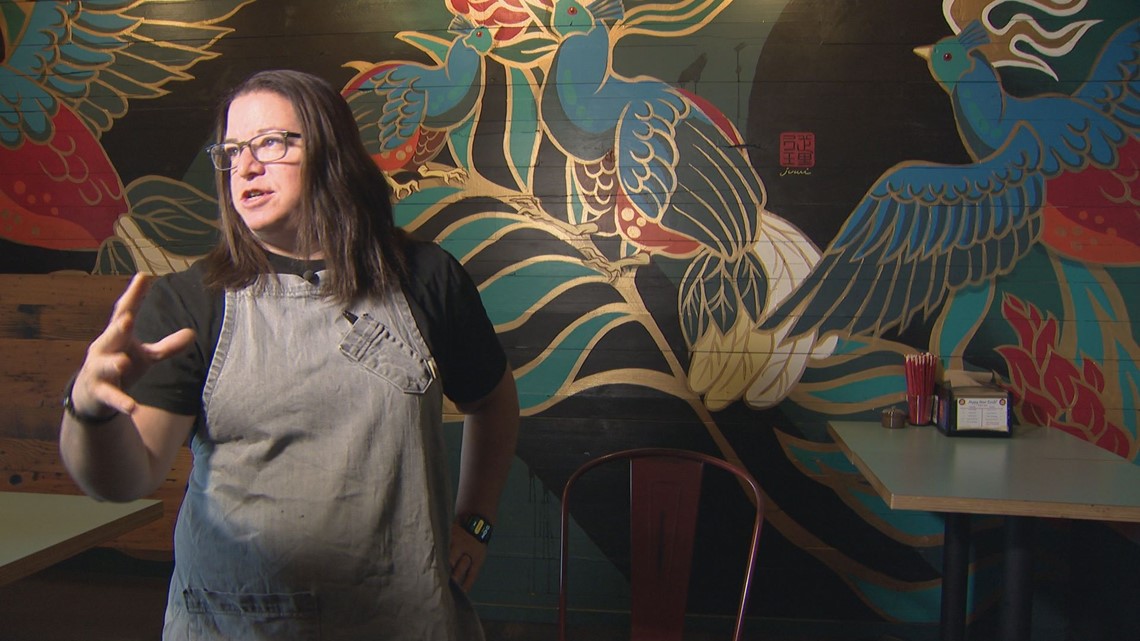 "It's not like my dream came true, I could have never even dreamt this. It's so far beyond anything you could ever dream," she said. "This award is a team award, it's not a chef award. That's why its extra special to us, it takes every one of us every night to make this happen."
Bruto also opened during the pandemic, in November of 2020.
"I definitely have a lot of gray hair. I didn't have this much when I started this journey," De Leon joked. "The first year was hard. It was hard. Not only because we were going up against a pandemic closures, and restrictions. And not only that, but building a chef-counter during that – you're new, nobody knows your name or what you're doing – it's hard. We stayed true to ourselves and just kept trucking along."
It was a risk that paid off, now, with a global spotlight. But regardless of awards, dinner was fast approaching, and De Leon has a job to do— it was time to get back to work.
"I'm still cooking, I'm wearing an apron!" he laughed. "I know the perception is that maybe chef doesn't cook as much anymore, but I still do!"
The Michelin Guide didn't just show up in Colorado. The state pushed hard to bring it to this state.
The Colorado Tourism office said they will pay $135,000 a year for the next three years to "sponsor this program in partnership with Michelin to market Colorado's culinary excellence domestically and internationally."
The New York Times reports individual city tourism-based organizations in the participating cities also agreed to contribute significant money, while other cities declined and did not participate.
There has been some controversary surrounding which cities were, and were not, included.