LONGMONT, Colo. — Police in Longmont said on Friday they are looking for the person who shot and killed a family's cat, and then dumped the cat's body by St. Vrain Creek last Sunday.
"There are no words to describe how tragic it is," Melanie Aizikovitz, Longmont Animal Control Officer, said.
The cat's owner told Longmont Police that their indoor-outdoor cat, Basil, had gone outside sometime during the day on Sunday. The cat was wearing a GPS collar equipped with a sensor that sends an alert to the owner if Basil goes outside of a set radius.
"There's actually no leash law for cats, so they are allowed to be roaming free," Aizikovitz said.
Basil's owner told police they received an alert about 9:05 p.m. Sunday. The owner said the GPS's pace meant that the cat was in a vehicle that was headed south on Martin Street near 5th Avenue in east Longmont. The cat's owner and a friend followed the GPS signal to where it had stopped on East County Line Road south of the intersection with Zlaten Drive, at the bridge over St. Vrain Creek, police said.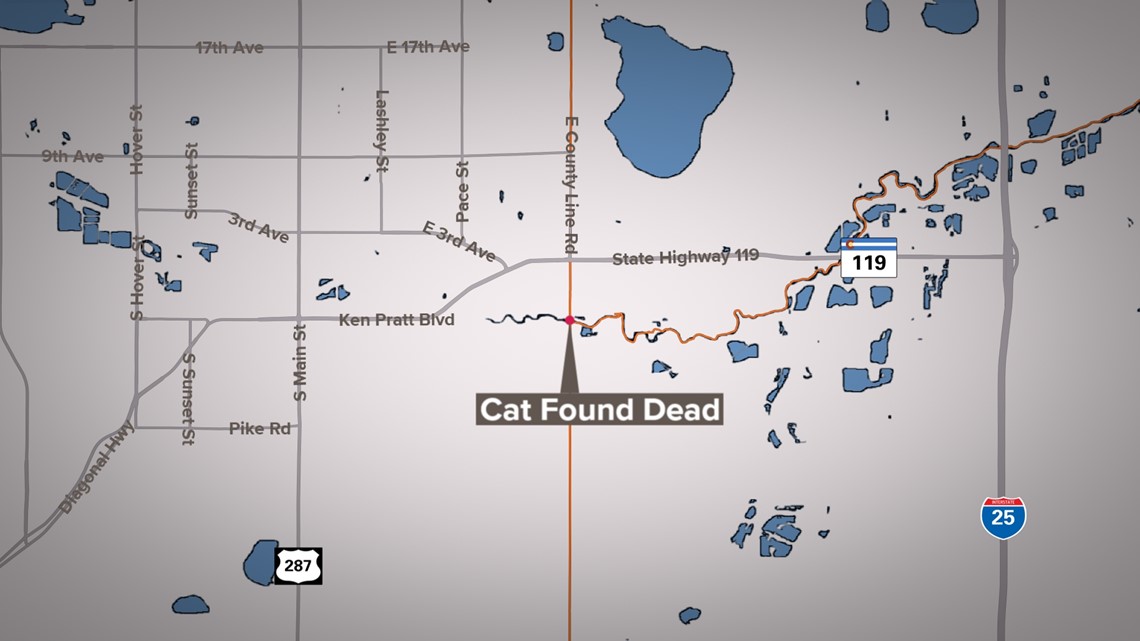 Basil's owner found the cat in the creek, stuffed in a black garbage bag with blue drawstring handles, Longmont Police said. The cat had been shot with a small caliber gun or pellet-style gun, police said.
"I would say for an animal lover its equivalent to you know caring about a person and then being hurt tragically," Aizikovitz said. "I know a lot of people don't equate animals and humans, but they're deserving of health and safety."
The owner told police that GPS showed the cat's route started from around Atwood Street and 5th Avenue and then went to Martin Street. From there it went to Ken Pratt Boulevard, then south on North 119th Street before turning left onto Quicksilver Road and then into the St. Vrain Greenway parking lot briefly, before heading north on East County Line Road where the GPS signal stopped at the creek.
Police said their officers are using new technologies to find the person that killed the cat.
"It's so upsetting and it loses a lot of trust I feel like for people that live in the area," Tori Ashcraft, Longmont Humane Society Shelter Manager, said.
Ashcraft said if someone comes across a cat on their property, the Longmont Humane Society can take animals at any time. After hours, there is a secured drop off on site.
"Whenever people have indoor/outdoor cats, they do expect their cat to be safe in the community to protect their animal," Ashcraft said.
Anyone who may have information on this case is asked to call Longmont Police at 303-651-8555 and reference report number 23-7880.
"I don't know why they would make the decision to do that when there are so many alternatives, it's just upsetting," Ashcraft said.
Longmont Police said residents can protect their property from cats by trying repellents such as a commercial product or home remedies like coffee grounds, cayenne pepper, moth balls, fine pepper, or orange peels. Cats on your property can be humanely trapped or picked up by animal control, police said.