ADAMS COUNTY, Colo. — A law enforcement officer who works at the Adams County jail will not be charged after a violent encounter at a Walmart with a mother and daughter in July.
Adams County District Attorney Brian Mason released a letter on Tuesday announcing his office would not pursue criminal charges against Deputy Ezekiel Spotts, despite injuries to a mother and daughter.
"Despite the clear evidence that Mr. Spotts struck two females causing them injury, there remains a significant question of who the initial aggressor was in these incidents," Mason wrote in the letter.
Mason's office released the decision letter along with security video recorded July 18 at the Walmart at 128th Avenue and Quebec Street in Adams County.
The video shows Spotts, who was off duty at the time, get face-to-face with Erika Smith after some words are exchanged. Spotts is 49 years old, while Smith is 25.
Smith said she told Spotts not to stop in front of people while they were exiting Walmart, prompting him to scream at her.
As the two are face-to-face, the video shows Spotts initially pushing Smith on the shoulder. She then retaliates with two slaps. Spotts then throws a punch, hitting Smith in the face.
Mason characterized the initial physical touch by Spotts as "places his hands on E.S.'s shoulder" in the decision letter and wrote Spotts "was acting on a reasonable belief that he must defend himself from the continued use of physical force by E.S."
After the initial altercation, Spotts is seen on video following the mother and daughter to their car, where a second physical altercation occurred. However, the many cameras throughout the Walmart parking lot failed to capture the second fight, according to Mason's letter.
Erika Smith said Spotts strangled her to the point of unconsciousness, causing her to urinate, while her mother, Linda Hurley, said she suffered a broken nose and skull fracture.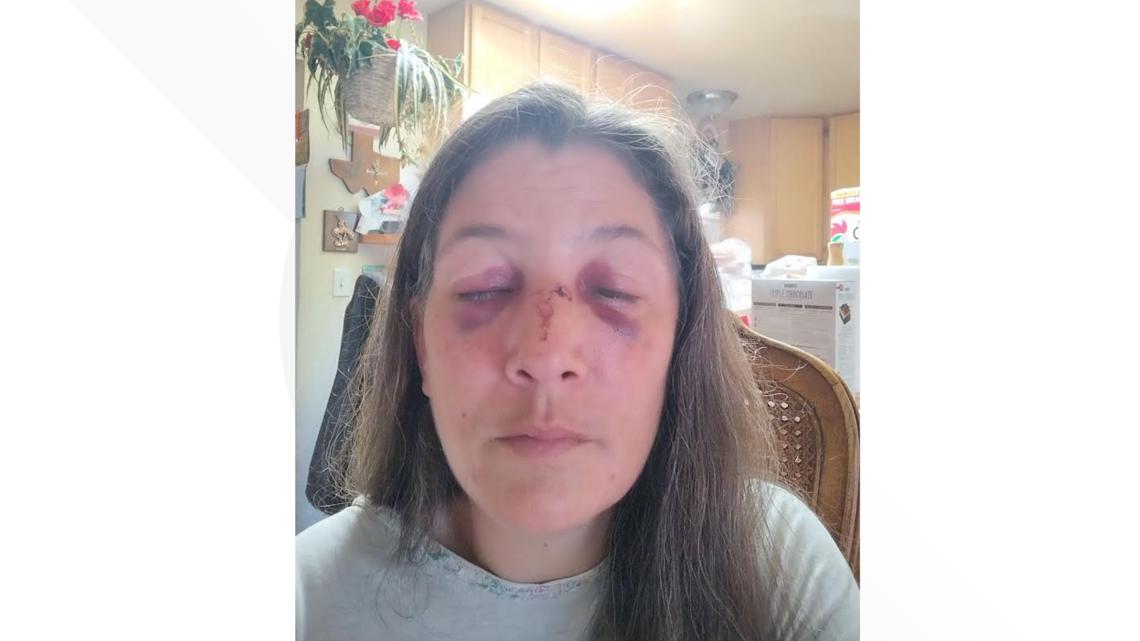 The letter, citing medical records, acknowledges Hurley's broken nose, but can't say conclusively if Smith did indeed lose consciousness.
"Unlike the first altercation, there is no conclusive video evidence as to the second incident," the letter reads.
Hurley and Smith told 9NEWS they are deeply disappointed in the DA's decision not to criminally charge Spotts.
"This is a big mishandling of justice," Hurley said.
Mason's letter cited conflicting witness statements that couldn't conclusively prove who the aggressors were in the case.
"I find the conduct of the parties regrettable. In particular, an off-duty law enforcement officer, while certainly retaining the right to defend himself, should nevertheless also have the judgment and reflection to step back from a volatile situation…," Mason wrote.
A spokesperson for the Adams County Sheriff's Office said the agency will now launch its own internal affairs investigation and that Spotts remains on "restricted duty" at the jail.
Calls seeking comment from Spotts were not returned.
If you have any information about this story or would like to send a news tip, you can contact jeremy@9news.com.