DENVER — Candidates addressed homelessness, crime and affordability in the first of three 9NEWS debates in the 2023 race for Denver Mayor.
This debate was presented in partnership with Metropolitan State University of Denver, the Colorado Latino Leadership, Advocacy and Research Organization (CLLARO) and the City of Denver's Fair Elections Fund.
Thirteen of the 17 mayoral candidates have opted to participate in the Fair Elections Fund: Kelly Brough, Lisa Calderon, Chris Hansen, Leslie Herod, Mike Johnston, Aurelio Martinez, Debbie Ortega, Terrance Roberts, Trinidad Rodriguez, Kwame Spearman, Ean Tafoya, James Walsh, and Thomas Wolf.
Voters in 2018 approved the fund to publicly finance elections. It offers a nine-to-one match for candidates who agree to fundraising limits, and certain conditions, like participating in two debates.
The participating candidates were arranged on stage according to their order on the ballot, as picked by a random draw done by the city.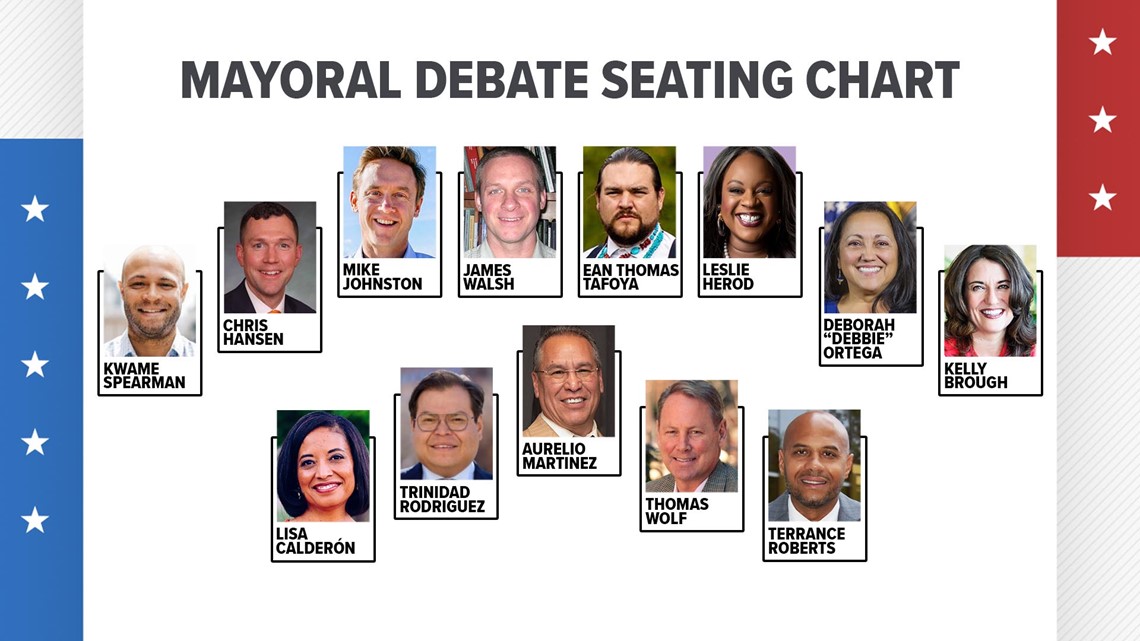 Four additional candidates aren't receiving Fair Elections Fund matches -- Renate Behrens, Al Gardner, Andy Rougeot, and Robert Treta -- and, therefore, were not part of this debate.
9NEWS' second debate is scheduled for March 14.
WATCH: Full mayoral debate
Homelessness
In a show of hands, the candidates appeared split on the topic of homelessness and encampments.
Everyone agreed most people living on the streets want a home, and all but Chris Hansen said the government has a responsibility to provide homes to people who want them. Several candidates also pushed the need for wrap-around services like drug treatment and mental health help.
Opinions on solutions, however, were mixed.
About half the candidates on stage said they would forcibly clear encampments in a show of hands, and five -- Kelly Brough, Debbie Ortega, Kwame Spearman, Thomas Wolf, and with a wavering hand, Trinidad Rodriguez -- voted they would want to forcibly arrest or commit people living on the streets.
The arrests, Brough said, would be the result of violating Denver's camping ban.
"If somebody just refuses, I still believe we have to take them in and I would liken it to how we do drug court today. Today, when you come into drug court, we give you an off-ramp where you can choose alternatives, but we don't give you the choice to live in inhumane conditions. I would do the same here," she said.
Mike Johnston, who has pledged to end homelessness, said the fix is adding housing, particularly tiny homes and micro-villages that could offer a sense of community and access to mental health help. Spearman agreed, but also noted people are "exploiting the system" and said Denver needs laws that actively deter people from wanting to live in encampments and tents.
"It breaks my heart when I see tents outside of Tattered Cover," Spearman, one owner of the bookstore chain, said. "But if we allow those tents to stay outside of our businesses, we are going to lose customers. Ask yourself in this audience or if you're watching this, if you frequent businesses that have homeless encampments outside of them. If you don't go into those businesses, we can't pay our employees."
FULL CLIP: Candidates share their ideas to address homelessness
Ortega stressed the importance of getting jobs for people experiencing homelessness.
"We have employers that are dying for workers. So what we need to do is look at how we close the gap, address the needs of the individuals. In many cases, we need employment navigators to help them and as they're getting stabilized, in this case, they're stabilized in housing, we want to get them stabilized in permanent housing," she said.
Lisa Calderón, an opponent of the camping ban, said her fellow candidates are missing the point. James Walsh reiterated that, pointing out others on stage we cannot begin to have a substantive conversation about homelessness until other candidates acknowledge they erroneously consider "unhoused neighbors [as] insane, criminal or freeloaders."
Calderón suggested Denver needs more emphasis on crisis intervention.
"I'm also a criminal justice professor and a 20-year service provider of domestic violence victims who find themselves homeless. People coming out of jail who find themselves homeless. With all due respect, these folks don't know what they're talking about," Calderón, who experienced homelessness as a teenager, said.
But whether the offer is a job or crisis intervention, what happens if a person on the street rejects help?
Leslie Herod pushed for social housing, in which Denver could get into the business of developing property. She didn't answer what should be done if people openly deny that, but did express that forced arrests aren't the answer.
"We can't incarcerate ourselves out of homelessness. It won't work," she said.
Ean Tafoya, who shared his experience working with people who are homeless, said getting people off of sidewalks and to somewhere safe starts with a conversation.
That countered an opinion from Rodriguez, who expressed that people shouldn't have the option to continue living on the street.
"I just want to be clear that you're coming through the sidewalks there's no option you're either getting involuntarily committed into an [emergency department] or perhaps arrested, but you're not being left behind," Rodriguez said, adding leaving people on the street is inhumane.
One component of adding resources would, of course, be money. Terrance Roberts admitted he doesn't have the answer to a question of funding but did indicate Denver could get in the banking business, with a public banking system.
But the issue of funding also begs to consider the role of nonprofits. Thomas Wolf has said the city has pushed too much onto nonprofits and echoed others' ideas of enforcing the law. Hansen contrasted that point.
"When I say let's audit the spending that we're having right now, a quarter billion dollars this year, and the numbers are going up. We have to do better and our nonprofit partners are having some success. Let's double down where we're seeing that and pull back funding," he said.
Aurelio Martinez proposed using assisted living programs for people experiencing homelessness rather than a traditional shelter. He also put forward the idea of utilizing the Denver Department of Public Safety to conduct patrols, stopping someone from living in a tent before the tent can even be built.
CRIME
On the subject of public safety, candidates next tackled the idea of policing and crime in Denver.
Perhaps the hottest topic here centered around Hansen's new TV ad, the first from any candidate in the race. The first few pieces of video primarily show people of color who appear homeless and committing crime.
"I felt like we really needed to highlight the number one issue on Denver voters' minds, which is people not feeling safe on the street and needing to step it up. When it comes to public safety. I'm so glad we get to talk about recruitment because you know, we have 1,600 officers, we're way short, and the police department were even worse than the sheriff side," Hansen said.
"I took actual footage from around town. It is not just people of color that are featured in this ad. I think this is really kind of shocking that it suddenly becomes this conversation about the way that we took footage."
Several candidates slammed his commercial:
"Raise your hand here on the stage if you're disgusted by an ad that makes people of color as the only criminals, or the people who are overrepresented in homelessness. It is a trope that has been broken forever," Tafoya said. "I cannot believe that he would make this ad. I'm so disappointed in you."
"It is offensive, and it's scary for our communities," Herod said. "You didn't see what we saw because you're not us. But you've got to put those blinders away. You've got to have more people looking at your ads and in your administration that look like the communities you're serving. It was offensive, Chris, and as a friend of mine, I'm disappointed, too."
"If you want to use your engineering degree, you got to have statistics and statistics are showing something that was not represented on that video," Spearman said."
FULL CLIP: Candidates address crime, public safety
There were areas of agreement. All candidates raised hands to say they would expand the STAR program, which sends mental health professionals to appropriate 911 calls instead of police. All of them also agreed Colorado should have a ban on so-called "assault weapons," and everyone but Martinez support expanding who can apply for a red flag warning to have someone's guns seized. None of the candidates think the Denver Police Department's budget should be decreased.
Candidates split on the role of police and how many officers Denver requires.
One one hand, Calderón said "it's a myth that more police on the street reduces crimes." She said it can increase crimes in communities that feel targeted. On the other, Johnston wants to add more police officers to the Denver department, though he does not want to change the minimum requirements to be hired.
Spearman expressed that when the Colorado legislature got rid of qualified immunity or a form of legal protection for police officers, it prohibited officers from feeling "empowered to actually do their jobs."
Herod, who brought that bill to the state legislature in her role as a state representative, stood by the policy change.
"Ending qualified immunity is the right thing to do. We should expect more from our officers and quite frankly, many of them are stepping up," she said.
Herod also addressed another bill that had her initial support: stricter penalties for fentanyl. A law passed in 2022 now makes it a felony for someone to possess one gram or more of the drug. In the debate, Herod admitted that lawmakers didn't make the right decision in passing that legislation.
"This fentanyl bill that we brought this year, this past year, I did support it," she said. "However, as I'm looking at the statistics today, and I watched today and yesterday as Department of Corrections asked for more beds to fill with folks who are addicted without having enough providers to provide mental health services to those people we were wrong. We didn't get it right."
Other candidates shared opined on various aspects of Denver crime.
Despite years on the city council, Ortega said her and her colleagues cannot take blame for the current state of crime and public safety because the city has a strong-mayor form of government.
Walsh said the big threat facing society is violence from white nationalist groups.
Wolf said enforcing existing laws needs to include what's happening now at encampments beyond camping, like trespassing, public intoxication and public defecation.
Brough promoted the idea of more transparency within the Denver Police Department.
Roberts returned to the idea of public banking, saying it could fund childcare for families to keep them away from crime and added there should be more after-school programs. Martinez shared similar ideas.
Rodriguez said taking money away from street sweeping or plowing could go toward the $150 million he wants to reallocate to policing.
AFFORDABILITY
Candidates tackled a range of topics related to the affordability of Denver.
Where Hansen said rent control hasn't worked "in the history of the world," Calderón defended it, adding Denver also needs to look at eviction and higher wages. Tafoya said people who worry about drastic increases want stabilization in their rent costs, so they don't have to worry about moving away from Denver. Herod shared the same idea.
Johnston argued Denver needs to promote affordable housing units where rent does not increase, but not deter developers from building here. Wolf jumped off of that idea saying that if capital can't find a home in Denver, it will go somewhere else, meaning increased risk and decreased reward. Calderón replied renters need broad solutions, especially if they cannot get into affordable housing. Johnston also proposed getting more people down payment assistance, so they can own.
WATCH: Candidates give their views on affordability and the cost of living
Spearman said he didn't know where a slew of new affordable housing units might go but the mayor, not neighborhoods, would decide if any area could reduce their affordable housing density. He, as well as Martinez, however, stressed the importance of individual neighborhoods deciding what happens with development in their neighborhoods.
Like his ideas on banking, Roberts pushed for public social housing to keep developers out of the equation.
Regarding general affordability in Denver, Walsh elaborated on his idea of "universal basic income" that would include a higher minimum wage and support for unions, with the intention of confronting "the idea that people who face poverty are to blame for their situation."
And on the idea of business versus the general interests of Denver, Brough said there aren't any policies she supported as head of the Denver Metro Chamber of Commerce that she wouldn't support now as mayor. It led to a discussion on paid family leave between her and Spearman.
WATCH: Balancing business interests with interests of citizens
The topics of affordability, gentrification, development and neighborhood control also brought up the idea of greener living. Specifically, candidates discussed development and climate concerns in Globeville and Elyria-Swansea.
Herod said holding neighboring polluters, like the Suncor Refinery, accountable has to be a top priority and said the city needs to put affordable housing in other areas that aren't next to polluters.
Pointing to work she did in the Globeville and Elyria-Swansea neighborhoods to address pollution caused by an old Asarco smelter, Ortega said she would continue to address those areas as mayor. She and Tafoya went back-and-forth on what she has done to work with regulators in her current role as a city councilperson.
Tafoya, an activist who has focused on environmental issues, said Suncor needs to be addressed, as well as other nearby agencies like Xcel Energy.
Xcel has been on the minds of people across Colorado lately, as energy prices soared. Hansen said as mayor, he would negotiate with Xcel on costs passed along to customers when it's time for the next franchise agreement.